Mediterranean Grill wins Restaurant of the Year
Posted on October 18, 2017 by Taber Times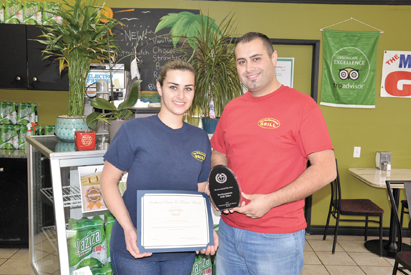 SERVICE WITH A SMILE: Rawan and Ray Jaber are all smiles for The Mediterranean Grill, winning the Restaurant of the Year at the Southwest Service and Tourism Awards earlier this month. TIMES PHOTO BY GREG PRICE
By Greg Price
Taber Times
gprice@tabertimes.com
Good family equates to good food.
That has been a focal point for Ray Jaber, owner of The Mediterranean Grill, not only with his own family, but having that family feel with his staff and customers as well. The varying philosophies Jaber has implemented has earned the establishment Restaurant of the Year at the Southwest Service and Tourism Awards earlier this month.
"It has been a beautiful journey. This is nothing new to me personally, we grew up in the business, my brother and I," said Jaber who acquired the business from his brother Ross who wanted to concentrate on a new Mediterranean Grill restaurant in Lethbridge at the time. "Our parents are the same way as us and where we inherited our culture of customer service, courtesy and politeness at all times."
Jaber's parents to this day run a restaurant business with 40 years experience in Lebanon that has served as Ray and Ross's mentors in providing a quality dining experience.
"They offer so many good foods, recipes and service which has helped this restaurant," said Jaber. "Lebanon is like here in Canada with a culture, that courtesy and politeness. We are in the right place for our business."
When Jaber moved to Canada, he was never far from the food service business. Going to University in Calgary studying computer science, he worked in the kitchen at one of the busiest drive-ins in the city, along with the casino.
Kindness, friendliness and passion mixed in with a strong work ethic is a philosophy Jaber tries to stress not only to themselves along with his wife Rawan, but staff as well in being a point of contact with customers.
"We are on duty at the restaurant. People who come here are off duty and coming here hungry and maybe tired. We can be the highlight of their day if we can give them an amazing meal," said Jaber. "If you are not presented with an excellent greeting from the time you come through the door and not given excellent service all along until you get your fresh meal, then something is not right to me. This is the culture we grew up in."
It is a culture Jaber hopes his staff grows up in as well in their training. Often a job at Mediterranean Grill can be a person's first job in which a strong foundation can be built from.
"It is in our culture and Canadian culture as well. We are so well known as Canadians across the world for our courtesy and open heart and this is how I greet every person who comes here," said Jaber, adding lunch rush can feature over 200 customers. "I want all my customers to leave with that impression. We treat staff like family. We are investing in a young person and trying to make them better at new things. The cooking and attitude skills are something you can take with you forever in your life."
Perfecting his family recipes while also introducing some new things as well at the restaurant, Jaber takes as much pride in his ingredients and preparation of food as there is in customer service. Being introduced to the Mediterranean Grill will be kibbeh balls (ground beef/cracked wheat with many herbs and spices) and the Mediterranean Philly (Philly steak and cheese sandwich with donair meat and sauce).
"We do use ketchup and we do use vinegar, I will tell you this much," he says with a chuckle as ingredients with some foods. "It's simple. If it's something we wouldn't serve ourselves or our little ones, we don't serve it period. Ingredients play a big role. People can say they can taste how fresh our tomatoes are. It's like what our partners at Alberta Health Services say 'if you are in doubt, throw it out'."
Showing dedication to his restaurant which helped lead to the award, Jaber admitted he was invited to the presentations of the Southwest Service and Tourism Awards, not knowing if the restaurant had won, being nominated the year before as well. Jaber is honoured and humbled receiving the award, while also humbly serving his customers that earned The Mediterranean Grill the award.
"We couldn't make it because we had a birthday party at the store and we were a little short having some key staff members move to Medicine Hat," said Jaber, adding he saw the restaurant had won on the Taber Chamber of Commerce page which the restaurant was tagged on, as he was closing up shop. "We had to be here to ensure excellent customer service. I was so busy that Wednesday night that I wasn't even thinking about it. Our customers are the main thing and if I get a bad review my wife would lose sleep over it wondering why and wanting to fix it… that's our culture."
Look at Facebook, Trip Advisor, Google and you will see The Mediterranean Grill at the top of the heap in positive reviews.
"There are some restaurants in big cities like Calgary or Lethbridge and they don't have as many reviews and they have been here way longer than we have," said Jaber. "That's huge for us."
Jaber added this past year Mediterranean Grill has invested $40,000 in signage and has improved equipment at the restaurant. Also, Jaber has also tried to increase his sponsorship in the area through Taber Minor Hockey, the fire department and Clearview Lodge.
"We've also hired more people to ensure faster service," said Jaber.
While some restaurants give loyalty cards to encourage return visits, it is more personal for Jaber in the natural flow of customer visits. It could be rounding down for the price of a purchase if a customer doesn't have exact change. It could be a free pop here or a free dessert there.
"It is the little things we do repeatedly that show we are appreciative of our customers," said Jaber, adding that includes remembering repeat customers names and already knowing what they want as they walk in the door. "Loyal customers are repetitive customers and we make those connections."