Prokop secures mayor's seat in decisive victory
Posted on October 17, 2017 by Taber Times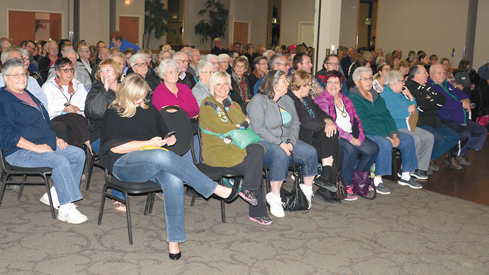 TIMES FILE PHOTO
By Trevor Busch
Taber Times
tbusch@tabertimes.com
Taber voters have pulled out the mayor's chair for Andrew Prokop, who handily defeated opponent Randy Sparks on Monday night by a margin of almost 500 ballots.
Prokop had served previously as acting mayor throughout much of 2017 following the resignation of former Mayor Henk DeVlieger. Prokop posted a resounding victory, taking in 1,227 votes to Sparks' 736.
"It's going to be exciting and interesting to have a new council on board here, and I think everyone is pretty excited going forward," said Prokop, reached late on election night. "It should be a nice mix, and I think good for the community all the way around here. There's some people that are brand new — I was new, too, four years ago — but I don't think that's a bad thing, I think that's good to have some new perspectives, new ideas, and new understandings. I'm sure they're going to be leaning on us as incumbents for some experience. I look forward to it, and I think it's going to be a really good mix of councilors."
The new council will be made up of incumbent Jack Brewin, who took in the most ballots with 1,062, followed closely by Garth Bekkering (1,003), Carly Firth (956), Mark Garner (846), incumbent Joe Strojwas (865), and Louie Tams (885).
"Just thanks very much everyone for coming out and exercising that democratic right to vote, and we definitely like to see the turnout," said Prokop. "I don't know exactly what the percentage is yet, but I think it's higher than the last election. So that's a positive, that message got out there that it's important for people 18 years and up to get out and vote and exercise their right to do so. We sure support the public getting out there and voicing their choice. That's great, that's good for the community all around also."
Incumbent Laura Ross-Giroux has been defeated, taking in only 601 votes, along with Naomi Brewin-Wiebe (785), Bo Hatch (533), Kevin O'Grady (494), and John Papp (796).