Incumbents and challengers returned in town election
Posted on October 17, 2017 by Taber Times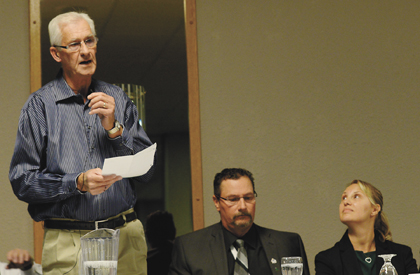 TIMES FILE PHOTO
By Greg Price
Taber Times
gprice@tabertimes.com
The Town of Taber council will have its share of different faces for the next four-year term with one of the widest fields in recent memory with 11 candidates vying for six seats on council.
Top voter getters unofficially as of late Monday night for council in descending order were Jack Brewin (1062), Garth Bekkering (1003), Carly Firth (956), Louie Tams (885), Joe Strojwas (865) and Mark Garner (846) who were elected to council seats. The rest of the field included John Papp (796), Naomi Brewin-Wiebe (785), Laura Ross-Giroux (601), Bo Hatch (533) and Kevin O'Grady (494).
Garth Bekkering, the highest vote getter among non-incumbents, returns to council after serving from 2001 to 2013, being defeated in the last election by a slim margin. There was no doubt this time around.
"I am extremely pleased. I ran a good campaign and I kept a relatively low profile. I tell you, the fact I work at Home Hardware doesn't hurt," said Bekkering with a chuckle in being able to speak to people. "That's my honest to goodness answer to that."
Running on a meat-and-potatoes platform of getting back to basics in making sure the basic needs of water, sewer, sidewalks and roads are met before moving onto wants, seemed to resonate with those who came out to vote.
"What I said before, I really believe it then and I believe in it stronger now because I have a chance to implement it," said Bekkering.
An old-school campaigner and senior, Bekkering got the second-most votes despite shunning social media in gathering votes during the campaign.
"I believe social media can be help and a hindrance. In my case, since I don't participate in social media as such, I'm surprised I did so well," said Bekkering. "Maybe it's because of my age, but I'm one of these people that like to see the white of the eyes of the people I'm speaking to. That was my opportunity at Home Hardware, I saw the whites of their eyes and they saw the whites of my eyes. I think the new council will show to the citizens of the Town of Taber what true governance is all about."
Jack Brewin was among the top vote getters in the last election, rivaling Randy Sparks at the top of the heap for a seat on council. The 2017 election proved much the same as Brewin outpaced the rest of the field to earn his second term on council as one of the two incumbents returning. Sparks was defeated in his run for mayor against Andrew Prokop.
"I'm pretty excited and pretty proud to represent the Town of Taber. I'm honoured and I will do my best for the town. For all the people of Taber, not just the people who voted for me," said Brewin.
Brewin kept his campaigning the same, standing on his previous record. First for what he did for the community as a resident before his first term and his record on council for the second.
"I hoped to stand on what I've done on council and where we are heading, and I think people see that. I'm proud of the work the previous council has done and I want to go forward, said Brewin. "For the new councilors coming in, I'm looking forward to working with them. It's a big learning curve to start, but we've all gone through it and I'll do my best to support them all the way through it."