Incumbents swept from office in M.D. election
Posted on October 16, 2017 by Taber Times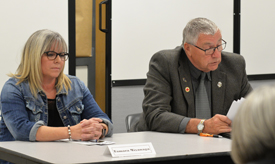 SLINGS AND ARROWS: M.D. of Taber candidates face off against the electorate during the recent M.D. forum. TIMES PHOTO BY COLE PARKINSON
By Greg Price
Taber Times
gprice@tabertimes.com
There has been a major shake up for the Municipal District of Taber council as five of the seven divisions will have new faces at the helm.
Three of the fresh faces were by election as Tamara Miyanaga defeated incumbent Ben Elfring 134 to 60 votes with one vote spoiled for Division 4 (Northeast Taber).
"It was good to meet everyone in the division, but I found it difficult that it has to be a popularity contest when Ben (Elfring) worked hard for the division. I found that a bit grueling, but I know I wanted to serve the M.D., so it's the process," said Miyanaga who was able to share the moment with plenty of friends and family.
With plenty of community involvement already under belt, including the Taber Food Bank since its inception 15 years ago, Vicent de Paul for 19 years, the Taber Hospital Board, school parent council, Southern Alberta Summer Games, victim services, Communities in Bloom and being a Taber Citizen of the Year back in 2010, Miyanaga is now ready to meet her next challenge in community involvement in municipal politics.
"For me, it's going to be another level of government that I can access and have a voice that can make even more of a difference. I've mostly been involved in social activism and now this will actually be advancing our M.D. and making sure our residents are taken care of in the best interest of the people who live in our M.D.," said Miyanaga.
Miyanaga had nothing but praise for her opponent in Elfring as she hinted his wisdom can be leaned on even in defeat.
"I appreciate the work he has done and I look forward to continuing to work with him. Just because someone is not at the table doesn't mean you can't work together for the benefit of the M.D.," said Miyanaga.
There were two other seats that had to be decided by election as Division 2 (Southeast of Taber) saw John Turcato defeat incumbent Tom Machacek 142 votes to 77. In Division 5 (Hamlet of Hays and Area), Jennifer Crowson beat incumbent Bob Wallace 135-95.
Other newcomers to Municipal District of Taber council chambers are Murray Reynolds for Division 6 (Hamlet of Enchant and Area) and Leavitt Howg for Division 7 (Vauxhall Area) who both got in by acclamation, replacing Duff Dunsmore and Dwight Tolton respectively who did not seek re-election.
Incumbents for Division I (Southwest of Taber) Merrill Harris, and Division 3 (Hamlet of Grassy Lake and Area) Brian Brewin, return by acclamation.