Issues addressed by M.D. candidates during forum
Posted on October 12, 2017 by Taber Times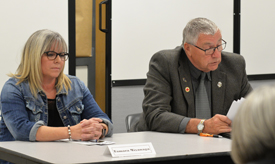 SLINGS AND ARROWS: M.D. of Taber candidates face off against the electorate during the recent M.D. forum. TIMES PHOTO BY COLE PARKINSON
By Cole Parkinson
Taber Times
cparkinson@tabertimes.com
Editor's Note: In a Taber Times/Vauxhall Advance website exclusive, reporter Cole Parkinson covered the M.D. of Taber's election forum on Wednesday evening at the Taber Public Library.
The M.D. of Taber candidate hopefuls had a chance to voice their opinions and answer community questions last night (Oct. 11) at a public forum.
Division 2 saw incumbent Tom Machacek and hopeful John Turcato, Division 4 had incumbent Ben Elfring and Tamara Miyanaga and Division 5 saw only Jennifer Crowson as incumbent Bob Wallace wasn't in attendance.
Members of the M.D. had a chance to ask questions face to face with their respective councillors as well as the others that are hoping to get a seat in the M.D. chambers next week.
Questions swirling around road maintenance, the relationship between the Town of Taber and the M.D. and the twining of Highway 3 were some of the most discussed issues in the fairly packed room at the Taber Library.
Most of the councillors listed road issues as one of their main priorities if they were elected and they all had a chance to voice their opinions on how they felt would be the best way to solve the problem moving forward.
"Roads are definitely our bread and butter because they get us where we need to go. I've been doing a lot of driving around and asking and talking to people. That's usually the number one concern of most residents is the condition of the roads," said Crowson.
Machacek says that the roads need to be better serviced as they influence the economy.
"The number one issue I have in the M.D. is roads. I think roads are what bring the wealth from the resource base community. We need the roads to stay clear and stay open and that allows our commerce and economy to enjoy a better life," said Machacek.
Not all councillors had an idea of how the road conditions were, but after driving through a few of them they say their eyes opened to the problem.
"Until I drove through every road in Division 4, I didn't know much about roads. I live on a road that has an oil battery and gravel pit at the end, it's looked after pretty darn good so I didn't have a lot of complaints. So the I went up north of Fincastle after the snow and I was driving a truck and I almost went into a ditch, it's not because I'm a bad driver, it's because the road was so beat up from the potatoes prior and whatever equipment. Then we had the snow and they can't keep up. One of the things for me is are the grater operators trained to the level that they need to be? I did a little bit of asking around and some guys think they don't get as much as they would like," said Miyanaga.
Others suggested adding more hours to how long the graters are on the road.
"I think we need to do a way better job of running our maintenance graters, I don't think we're running them enough hours currently. Eight hours a day isn't enough, if a private business owned that grater there's no way it would run eight hours a day, it would be running 12 hours a day and six days a week," said Turcato.
Elfring pointed to the fact that the councillors were only a call away if people had issues with their roads.
"We have 14 graters that are running constantly and they have priorities, how much traffic is on these roads there is high, medium and low. High gets more grading done because of more truck traffic and if you have a problem give us a call. We'll get those roads fixed up for you, today I had a call from the Setoguchi's and it was down their road. It was beating up their trucks so I phoned Derrick (Krizsan), he phoned the supervisor and there was a grater there that afternoon," said Elfring.
With all of the public forums now complete, races are getting close to being over with election day looming.
The last advance poll for Division 5 takes place tonight at the Hays Civic Centre from 1 to 5 p.m.
Meanwhile general election polls come on Oct. 16 with Division 2 and 4 taking place at the M.D. of Taber Council Chambers and Division 5 at the Hays Civic Centre, all taking place from 10 a.m. to 8 p.m.