Decision on pot video reversed
Posted on October 11, 2017 by Taber Times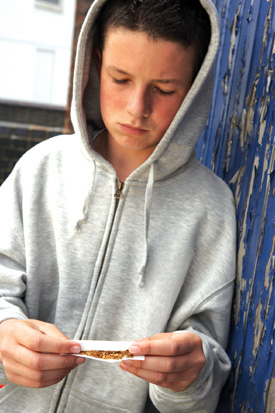 REEFER MADNESS: Canada's cannabis legalization legislation is designed to keep the substance out of the hands of children through regulation. TIMES FILE PHOTO
By Trevor Busch
Taber Times
tbusch@tabertimes.com
If at first you don't succeed — try, try, again. Especially if you're talking about opposition to federal cannabis legalization.
In a tight 4-2 vote at their Sept. 25 regular meeting, town council has reversed a previous decision involving the creation of a video stating council's opposition to Bill C-45 which had been defeated in a 3-3 deadlock vote at council's Sept. 11 meeting.
"I was under the understanding that if a motion is defeated, it couldn't be brought back on the table for six months," said Coun. Randy Sparks, speaking prior to the vote. "So this motion was defeated, so we shouldn't even have this in front of us right now for another six months."
According to administration "members of council" had requested further clarification on the status of creating a video, as the defeated resolution was not clear as to whether it could move forward without the participation of all council members.
Administration noted there was still time to create a video, although the timeline is now much shorter and some projects may have to be postponed by staff to accommodate the request.
Citing town Bylaw 3-2007, CAO Cory Armfelt indicated that as there was confusion surrounding the initial motion defeated on Sept. 11, this justified ignoring the town's bylaw governing defeated motions.
"If there wasn't the issue with this confusion — and I can see where because of the way that motion was worded, and me not being here, I don't have a good sense of what happened — but we are mixing two things within that no motion. Because we fettered the motion by introducing two topics, one being the video, and the other being council participation in that motion, there is a point of confusion. So professionally, how I justify not going directly to this policy and indicating to council 'too bad, you had your shot, we're not bringing it back around,' I am giving council a bit of understanding on this, because this isn't happening at every meeting, and I consider that there is an opportunity where there could have been some confusion."
Sparks asserted he was simply attempting to make sure that moving forward with the motion was not in violation of any town bylaws or policies.
"I'm not against this by any stretch of the imagination, I just wanted to make sure that the right decision is made so there's no one that comes back later and says 'you guys shouldn't have done whatever you did because the motion was defeated in the first place.' I just want to make sure that we're doing the right thing, so we're not going to get ourselves in any issues."
At their Aug. 21 regular meeting, council had passed a resolution called "Repeal the Cannabis Act" to be presented at the upcoming Alberta Urban Municipalities Association (AUMA) convention on November 22-24 at the TELUS Convention Centre in Calgary.
The resolution – if passed by the AUMA membership – essentially calls on that organization to lobby the federal government to repeal Bill C-45, while also requesting the provincial government work with AUMA to achieve that same goal. In order to provide context for municipalities voting on the resolution, members of council had proposed the idea of a video explaining the reasoning for their opposition to cannabis legalization, which would be intended to "aid in educating the public on the future of Bill C-45 in Alberta."
Coun. Rick Popadynetz expressed his preference for moving forward with a written submission for municipalities prior to the AUMA conference, rather than a video.
"The alternative where we give a pamphlet out at AUMA, would probably be sufficient. I've been to AUMA several times, and I rarely see a video of anything, or have time to fathom looking at a video like that."
That opinion was seconded by Coun. Laura Ross-Giroux.
"I personally would be more comfortable with a pamphlet or a letter to go out, rather than a video. That's just my comfort level. I wouldn't participate in a video myself, but I have no problem with written material to be sent out prior to AUMA."
Council's resolution from Aug. 21 suggests Bill C-45 "does not provide sufficient preventative measures from young persons (12-18 years of age) buying, possessing or consuming cannabis" as well as their being no "adequately-proven technology to test for cannabis impairment in safety-sensitive positions; and the impairment of municipal workers and citizens constitutes a high risk liability towards safety for all municipalities." The resolution also targets the short timeline for municipalities to create policies and regulatory strategies by July 1, 2018, "creating the situation where business enterprises would have the opportunity to develop in the municipality contrary to the policy desires of councils" and suggests the legislation "will result in increased operating expenditures for municipalities to enforce a new suite of regulations."
An initial motion put forward by Popadynetz directing administration to find another format other than video that can be provided to other municipalities with information regarding the background of the AUMA resolution, was defeated in a 4-2 vote. Coun.(s) Popadynetz and Ross-Giroux were the only votes in favour.
In an immediate follow-up motion, council voted 4-2 to direct administration to move forward with a video and draft a script, and for that script to reflect only the participation of those council members who wish to be in the video. Coun.(s) Popadynetz and Ross-Giroux voted in opposition to the motion.
At council's Sept. 11 meeting, administration had noted that "as the election is in October and the AUMA convention is not until November, there is the possibility of a new council having different thoughts on the presentation of this resolution to the AUMA."