Long-time town employee honoured with avenue re-dedication
Posted on October 4, 2017 by Taber Times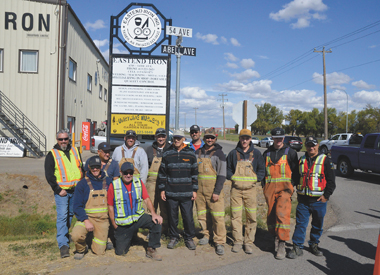 INSTALLATION: Town employees gathered for a re-dedication ceremony at the corner of 54th Avenue in September to show support for retired employee Phil Abell (centre). TIMES PHOTO BY TREVOR BUSCH
By Trevor Busch
Taber Times
tbusch@tabertimes.com
The Town of Taber has re-dedicated a section of 54th Avenue to honour the contributions and long-time service of a retired employee.
At their Sept. 11 regular meeting, town council voted unanimously to recognize the exemplary service to the Town of Taber of retired long-time employee Phil Abell, and dedicated 54th Avenue from 58th Street to 64th Street as Abell Avenue.
Council and administration had agreed to find a way to celebrate and recognize Mr. Abell for his dedication and excellence over his 30-plus years as a Town of Taber employee and supervisor.
Abell was also recognized for all the volunteer work he has done for many organizations in Taber.
"Phil's been here a long time, and he needs that honour, he's very deserving of it," said Coun. Joe Strojwas.
The street blade signs are 6″x 24″ and of the same type and material as our regular street address signs, except for being opposite colours to distinguish between the actual street name (54th Avenue) and the dedicated street name (Abell Avenue).
The signs, including shipping, total $160 to be allocated from the operating budget under signage, and will be installed in existing poles by the public works department.
The public celebration for this recognition took place on Aug. 24 at Cornfest.