Locations recommended for proposed fire hall
Posted on September 27, 2017 by Taber Times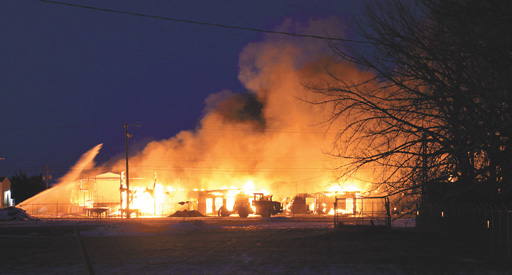 TIMES FILE PHOTO
By Trevor Busch
Taber Times
tbusch@tabertimes.com
Town administration has recommended two locations for a proposed new fire hall, which are currently being further scrutinized for their suitability through ongoing evaluations.
The two locations being recommended include the southeast corner of town-owned property near Dr. Hamman and St. Pat's schools, as well the parking lot area northwest of the curling rink.
"I believe we talked about asking administration to do the geophysical investigations. That was administration that recommended those two locations, but again, that hasn't come to council for any approval," said Mayor Andrew Prokop, in an interview following the decision. "I believe there was 12-14 different locations, possibles that would fall under that 500 metre circle. Those are the two recommended right now for council by administration, but basically the big reason behind that is we own the land. They're looking at it from a cost savings perspective, we own those two pieces of property, whereas any of the other properties, we don't."
Following in camera (closed session) discussion at their Aug. 21 regular meeting, town council voted unanimously to authorize administration to examine the feasibility of locating a fire hall either on the southeast corner of Plan 6403JK, Block P1, or Plan 7282JK, Block C, northwest of the curling rink, as these sites are the top two highest ranked sites evaluated; and directed administration to undertake a public engagement process to present the advantages and disadvantages of both of these sites to the public for their input.
During the in camera portion of a public meeting, members of the general public, including the media, are barred from witnessing or participating in the proceedings or discussion, although all subsequent resolutions must be made in open session.
The MGA sets out clear requirements for municipal councils to conduct their business openly, except in very limited and specific circumstances.
Under guidelines laid down by Alberta Municipal Affairs, as an elected body, municipal councils should avoid conducting business in-camera that includes discussion of difficult topics such as budget deliberations, capital expenditures, tax recoveries, salary ranges or hiring of additional municipal staff, bylaw amendments, subdivision proposals, and "any contentious issues such as sensitive local issues."
The town was recently left approximately $2.4 million from the estate of a local benefactor after he passed away in October 2016.
Following in camera discussion at their July 17 regular meeting, council voted unanimously to set aside $1.5 million dollars of the donation for a new fire hall building.
Council discussion over how to best allocate the funding was conducted behind closed doors, and some citizens have questioned the lack of accountability and transparency involved with a decision to earmark millions in public funds.
Prokop indicated the locations being evaluated by the town and information surrounding the decision will be released publicly in future, although he sidestepped when that might specifically happen.
"I actually asked, I want to disclose it — I see no reason why we can't disclose it — but we haven't agreed to disclose it yet. I believe we should be, and I don't see a reason why we shouldn't be. That's going to happen soon, and to me it just gives a better picture to the whole community about the complete perspective of what we're looking at. Administration wanted to come back to the recommended locations and go from there, but it was actually agreed that we would be disclosing it at some point, and I asked for that sooner than later. It's going to happen for the public to be able to see that, put all the cards on the table so we know exactly what we're dealing with, all the options out there, costs — as far as choosing an actual location, it's far from a done deal at this stage."
Improving the response times of the town's volunteer fire service, which could have a corresponding effect on the development community with regard to decreased input costs, has been a long-standing bone of contention for local developers with properties currently outside the radius of a 10-minute response time. As a result, developers in the community have been required to build homes with very specific materials and setbacks, raising the cost for housing.
Three potential scenarios for relocating the town's fire hall to meet a 10-minute response time were presented to town council in May. The town's HIRF committee met three times to compile information from previous studies and present research into a HIRF report that outlines the case for relocating the fire department and how to alleviate costs. Alternative 1 suggested council approve the Taber Fire Department being relocated to, "Within 500 m2 of the 50th Street and 50th Avenue intersection." In its conclusions and recommendations, the HIRF Committee suggested Alternative 1 was the most favourable in terms of mitigating HIRF requirements and meeting the intent of, "prosperity and growth for the Town of Taber as well as the safety of residents."
Prokop was unable to provide any details on when the public consultation process may get underway with regard to the proposed project, but suggested it will likely occur after the Oct. 16 municipal election.
"We did also task administration to put together a public consultation process so they will have their time to speak on their favorable or unfavorable concerns. Any public input — either favorable or unfavorable — certainly can impact a decision. This is something that has been decided was more than necessary for the community. So if the community in any way, shape or form has concerns, we want to hear about it, and we'll try to deal with that accordingly."