McAdams takes over the helm of Alberta Communities Group
Posted on September 20, 2017 by Taber Times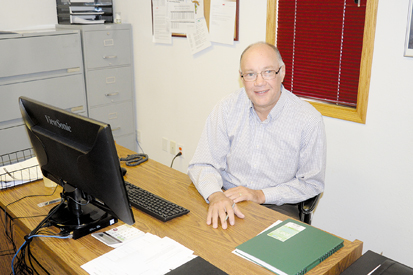 TIMES FILE PHOTO
By Greg Price
Taber Times
gprice@tabertimes.com
Ryan McAdams has been named the Publisher of Alberta Communities Group, which includes the publications of The Taber Times, Vauxhall Advance, Coaldale Sunny South News, Bow Island Commentator, Cypress Courier and Westwind Weekly News.
McAdams transitioned into the position officially last Wednesday, where in his new position he will lead in all areas of the newspaper business in planning and implementing all goals as they relate to growing the weekly newspapers. Public involvement, communications, marketing and fostering community partnerships will be a big part of his new role.
McAdams brings a wealth of experience with him on the advertising side of the newspaper industry.
"Newspapers I would say have been deeply engrained in my artery and vein system. I've been in newspapers in excess of 30 years," said McAdams. "I've worked in the three western provinces, both in dailies and weekly community newspapers."
McAdams took a year off from newspapers to take on a media consulting roll, but found himself missing the day-to-day activities of the trade. Having family in the region and the position becoming available, it gave McAdams the perfect opportunity for the synergy of both private life with family bonds and the public life with his passion for newspapers.
"I'm really looking forward to it. The biggest thing I enjoy is when I am able to work with clients and really see how it works. I know it works because I see the clients being impacted in a positive way," said McAdams. "I know the value they get from newspaper advertising. It's still there although there are a lot of naysayers who say media itself is not as efficient as it once was. I don't subscribe to that. People, particularly in community newspapers, our content is locally written and generated and it is a true mirror image of what our community is and what it does. These are things people want to know about. There are not a lot of other areas they can get that information in a concise, well-written package. The printed word has more validity and substantiation behind it."
McAdams is looking forward to getting involved in the community and expanding the newspaper products of the Alberta Communities Group.
"I want people to understand the value that we can provide both through our reader perspective and equally important in the advertising and business side of things," said McAdams.
Family is very important to McAdams, who has a daughter who teaches in Nanaimo. His wife has family in Lethbridge, and McAdams has many fond memories in southern Alberta which were missed when they were gone.
An avid golfer, McAdams admits that does not necessarily make him a good golfer.
"I shoot around a 15 handicap. I can make my way around a course, but I certainly have no illusions of it being a new career," said McAdams with a chuckle.
The new publisher does have some sports roots that date back to Taber in the late 1970s where he was a defenceman for the Taber Golden Suns in junior hockey, playing alongside Bobby Hull's son Bobby Hull Jr. McAdams played junior hockey in Nanaimo and Victoria as well.
An avid hockey fan, much to his wife's chagrin sometimes, if there is a game to be found at any level, McAdams will try and take it in.
"I have dragged her to many an arena. Regardless of where we have lived over the years, it's something she know it's coming. She just doesn't know where and when, and how often," said McAdams. "I coached minor hockey for many years and junior hockey. I'd say I'm even more than an avid fan. It's one of the true sports I have a passion for."
McAdams takes over from Val Wiebe, who began her career with The Taber Times in 1974 as a typesetter and progressed through nearly every phase and department of a community newspaper until eventually her last posts as assistant general manager and publisher.