Council addresses town complaints involving emergency service in town limits
Posted on September 20, 2017 by Taber Times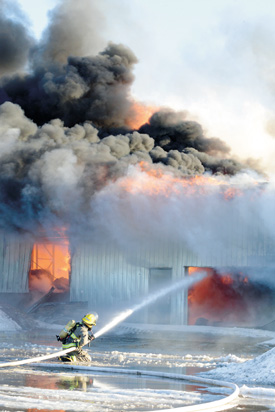 TIMES FILE PHOTO
By Trevor Busch
Taber Times
tbusch@tabertimes.com
Citizen complaints regarding emergency sirens and excessive speeds displayed by some personnel in town limits has been raised with town council.
"I've had a lot of concern about sirens blaring. The M.D., it seems to be their department, they leave their sirens on past Linden View and all through town," said Coun. Jack Brewin, speaking during the council requests portion of the Sept. 11 regular meeting. "I don't know what the rules are for sirens, if they need to be on all through town, or just at intersections, or whatever the case may be with that. I've had inquiries about it. Is it protocol that they put sirens on as soon as they leave their department? That's a question I've had to me, so I'm putting it forward."
Mayor Andrew Prokop, a former police officer with the town's service, suggested the activation of sirens is largely a judgement call for personnel.
"I can speak from the police service side. That's sort of an individual judgement call for a member operating an emergency vehicle at the time. But it's typically when you need to go through intersections, not necessarily all the way to the scene. It depends on what the emergency is also."
Taber fire chief Steve Munshaw confirmed Prokop's assessment was accurate with regard to department operations.
"It's exactly the same process. It's pretty much a judgment call when you leave the location, depending on the actual call, depending on the location, and what you're going through. Typically we'll use sirens to go through intersections and clear heavy amounts of traffic. Other than that, if you need lights on, people will move for lights. Most of the time you don't need that, because you're going to be traveling at regular speeds. Fire trucks, you don't want them to go any faster, unless you need to clear a person out of the way, you'll blurp it a few times, they'll move out of the way, and you'll carry on down the road."
Brewin suggested that if service members weren't encountering specific situations as detailed by Munshaw, then sirens were unnecessary.
"In our case, in our fire department, we don't use sirens," said Munshaw. "Most of the time we'll turn our lights on going to an emergency location for the duration. If we have to turn sirens on — if we see approaching traffic — we'll turn them on, just so they can see we're either passing them or we're doing a change at the intersections. But there use is very much a judgement call. At night, that's why in town you typically don't hear us with sirens on for that reason."
Coun. Joe Strojwas reported he had heard citizen complaints regarding excessive speeds.
"I've had similar concerns, and some of the concerns that have been brought to me, is the speed they travel. Often times they're going down Highway 864 and 64th (Avenue) and they're definitely going faster than the speed limit. Should they be breaking the speed laws?"
Munshaw confirmed that in almost all cases, fire departments are subject to the same traffic regulations as an average citizen.
"We really don't have — as far as fire departments go — we don't have legislation to go over the speed limits. We have to obey traffic signs, stop signs, yield signs — everything has to be obeyed," said Munshaw. "Lights and sirens are just a request to basically go around traffic or for them to yield to you as oncoming traffic. At times you may go over the speed limit a little bit, but fire trucks are also governed. You're typically not able to go any faster than 100 to 110 kilometers per hour on highways. And you have to take caution. You're driving with a large piece of apparatus down the road, and they don't stop as fast as they should, and we don't see as much as we should when we're going too fast. So we travel at regular speeds, obey all signs — the lights and sirens are there basically to yield to traffic."
Strojwas questioned whether this applied to all fire department vehicles in the town's service.
"The half tons aren't governed, other than the regular governor that comes from the Department of Motor Vehicles, the DOT aspects, but you should only be traveling at standard highway speeds," continued Munshaw. "That's why we request our personnel — the maximum we have our personnel is 10 kilometers over the speed limit when traveling in an emergency vehicle, traveling down the road. Not in any personal vehicle, all traffic signs are to be obeyed at all times."
Brewin acknowledged that the safety of other citizens on the road must always be taken into consideration.
"If I'm in a wreck, I want them to go as fast as they possibly can to get there to save me or my loved ones, but we have to be safe. I've had a lot of people say that this is getting to an extreme with some of these lights, and the speeds in town. I appreciate our volunteers and what they're doing, but they have to be aware of the laws."
Munshaw agreed that the potential for his own personnel to be injured on the way to scene would do nothing to help the service respond to an original call.
"I need people at the scene safe, and actually at the scene, instead of in a wreck, where we're having to go to multiple scenes. We're dealing with volunteer firefighters. We're pulling them from different places, these people need to get to the scene to help these other people out, and traveling at any higher speeds — speeding doesn't really get us there any faster than seconds," said Munshaw. "I know that seconds count, but so does the safety of everybody else."
Following this discussion, Coun. Laura Ross-Giroux put forward a motion that the town issue a formal letter to the M.D. of Taber stating their concerns.
But the idea was met with opposition from other members of council.
"Speaking in neutrality to that motion, are we able to clarify that it's solely the M.D. fire department?" questioned Prokop. "We have other emergency services here, how do you single them out unless you really know for sure?"
Ross-Giroux indicated she would be willing to accept an amendment that the letter be sent to both the town and the M.D. fire departments. This appeared to do nothing to placate fellow council.
"Through discussion with Chief Munshaw, and my comments, that's difficult," said Prokop. "I'm not so sure that that's a wise choice."
Munshaw suggested the local police service has been aware of some of the concerns, and discussions have taken place.
"I know at this time, the TPS (Taber Police Service) has had conversations with the fire chief here in town, and noted with them to use caution when using green lights, and use caution with speeds. I don't know any further conversation that has taken place. I will echo back to all my volunteers the same thing."
Ross-Giroux was initially unwilling to back down from her motion.
"Well, I'm sure it could be written as a healthy reminder. Because if this is happening, I don't want to see a fire truck going down 64th Avenue at 100 kilometers an hour, if that is the case. And with the sirens, do they need to run the sirens past 50th and 64th?"
Brewin was concerned that the issue had now escalated further than he had initially intended in bringing it to council.
"I brought this up as a concern from citizens about sirens in town. There's no need for them when going down 64th Avenue when there's no vehicles around. I don't want to make it into a big deal."
Coun. Rick Popadynetz pointed out there might be other avenues to address the issue that are already in place in the community.
"Speaking not in favour of the motion, we have an administration that has already done their due diligence and went to the fire department. Also we have a deterrent for things like this — members of our police commission could set up a photo radar near that area to deter speeds."
Strojwas also weighed in with his opposition to Ross-Giroux's motion.
"I can't support this motion either. This is a little petty in my view. It's an issue, but I don't think we need to go as far as a letter."
Facing significant opposition to the idea prior to the vote, Ross-Giroux moved to rescind her motion.