St. Pat's undergoing major modernization
Posted on September 13, 2017 by Taber Times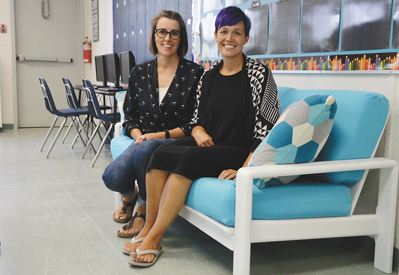 NEW DIGS: Principal Michelle Nevil and vice-principal Meghan Calder sit in one of St. Pat's new temporary classrooms, which have proved more than adequate for instructional purposes. TIMES PHOTO BY TREVOR BUSCH
By Trevor Busch
Taber Times
tbusch@tabertimes.com
With renovations and modernization fully underway at St. Patrick's Elementary School, the 2017-2018 school year will be a challenge for students and staff as they take up residence at a temporary location adjacent to St. Mary's School.
"They can expect adventure, being that we're in this temporary building," said principal Michelle Nevil. "We'll be sharing this space with St. Mary's, they're opening their doors to us for their phys ed and library space, and gathering space. So we're definitely between two buildings, and we're definitely on a rebuild here at St. Pat's in terms of programming, with our multi-age program, our literacy program has changed, and it's rich and it's building — collaborative teaching groups, something that's very new to St. Pat's."
Collaborative teaching groups will be an enhanced focus for St. Pat's in the upcoming school year, according to vice-principal Meghan Calder.
"We have three teachers basically teaching one large group of students — multi-age —so all of our classes are either 1-2 or 3-4. So we have three 1-2 classes, and those teachers will work together to plan the year, to teach, to provide interventions — basically they're working as a full group — so students will be in their homeroom class, but they'll also be working with the other teachers and with the other students in the other classes as well."
Nevil posits that collaborative teaching groups will help to bring together students and staff in a more open format.
"And we did that to build a positive environment. One thing about Megan and I, we're all about the relationship piece when it comes to education and building that positive environment across the board, and it allows us to broaden the peer groups, it allows us to have a common language amongst the kids so they hear the same thing, it allows us to have more than one adult to trust in. So we've taken away all the little 'islands', and created one big, happy learning community."
New staff for the 2017-2018 school year includes Nicole Caputo (1-2) and Jodie Gross (3-4).
"On the faith front, we're moving to growing the spirit, so we're focussing a lot on prayer, and that idea of being mindful," said Nevil. "So each month we're going to focus on a different type of prayer. So we'll start with blessings in September."
The school is hosting their Welcome Back BBQ on September 21, and the Terry Fox Run on Sept. 22 at the St. Pat's oval.
Enrollment for the school has remained status quo, reports Nevil.
"Amazingly, they're steady. They might even be a little up. I haven't done the full count, but it's always a concern for us, especially for anyone going into a renovation year. But it seems like our community is very supportive of what we're going through, and they're in it for the adventure with us. Learning will continue to happen. The one thing you'll see about our temporary school — the best thing about this place — is the classrooms and the learning spaces. They're beautiful."
Calder maintained the rooms are more than adequate considering their temporary nature.
"The teachers have done an exceptional job, they're big, they're air conditioned, they're bright, they've got lots of windows. All the technology is in that we had in the other school. So we're really not working at a deficit in terms of our classroom spaces."
Despite the stresses of a relocation, Nevil suggested the local Catholic education community has been adjusting adequately, with an eye toward a fall 2018 completion of the modernization.
"I think everyone's adjusted well. We had an open house where we invited everyone to come in to check it out. We've tried to keep people in the loop via our Facebook page, or on Twitter. Everything's on course. They say we hope to be in the renovated building by September 2018. They seem to be moving really quick. If anything, it's hats off to our division, who has put so much time and effort into building this temporary school — they've done an exceptional job."
Renovations are progressing at an impressive speed, reported Nevil.
"At this point, they've taken the roof off — they're raising the roof, putting a new roof on — and gutting it out. The school is empty, gutted out, there's no walls in there, they're putting up new walls. They're doing the extended ceiling portion right now in our gathering space, and then soon they'll be pushing the wall out in that admin space. That's impressive, too, how quick they've been going there."