A little birdie told me at Clearview Lodge
Posted on September 13, 2017 by Taber Times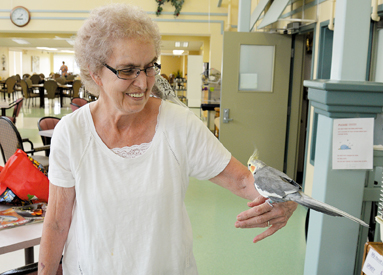 TAKING FLIGHT: Marilyn Thomson, a Clearview Lodge resident, handles one of the facility's cockatiels. Residents have taken a renewed interest in the facilty's bird collection, which has become an educational experience for many. TIMES PHOTO BY TREVOR BUSCH
By Trevor Busch
Taber Times
tbusch@tabertimes.com
Clearview Lodge resident and former commercial bird breeder Marilyn Thomson has seen the facility's bird collection take wing with residents as they have become increasingly engaged with their feathered friends in recent months.
The facility currently has three finches, two cockatiels, and two budgies, and has freshly been visited by the proverbial stork with the addition of two baby finches after the birds bred in captivity.
"We lost one of the finches, and I went and got a mate for the finch that was here," said Thomson. "But I decided he was just about too old to do anything with a new companion, so I got two young ones, a male and female. That's why we have babies."
In the past, Thomson operated an aviary in the area, where she would breed and sell birds to pet stores.
"I had an aviary in Barnwell. I raised all kinds, I had 250 birds in my basement. I had tours coming out of Calgary, and the schools here, and different groups came through the aviary. I was selling birds to pet stores."
Thomson has been a Clearview resident for the past two years, but it was only this spring when she became involved in husbanding the facility's collection. Although most of the facility's birds are nameless, the two cockatiels are known as Spikey and Bo.
"It's been two years. When I came in, they had two budgies, and two finches, and a cockatiel. But I had nothing to do with them until March of this year when they started dying, and they needed replacements, they came to me to get replacements for them."
The fledgling finches — which have been up and about and recently learning to fly — may find a new home at some point.
"As soon as they're old enough to leave their parents, then they may go somewhere, to a pet store or somewhere, because we don't have the facility to keep large quantities of birds. But those two parents will probably breed again," said Thomson.
Her enduring love for birds over the years has anthropomorphized the animals.
"They're just like humans. You give them love, and care, and feed them, and keep them clean, they'll do the same back. I would love to (continue working with them)," said Thomson.
Coming almost as a surprise for Thomson, the curiosity of residents has been peaked, and she has seen increasing engagement with herself and the facility's winged warblers.
"As soon as I got Spikey, I started training him to socialize with the residents. The residents raised the money themselves to buy the birds — the birds belong to the residents. They're involved, money-wise and in other ways. There's the odd one that doesn't like birds and has complained, but the majority have just fallen in love with them. The residents have been involved in this whole process, and when they started seeing what I could do with Spikey, then they started talking among themselves about birds, and I would answer questions — any questions they asked I was able to answer — and so it's also been educational."