Blood donation a Fawns family affair
Posted on September 6, 2017 by Taber Times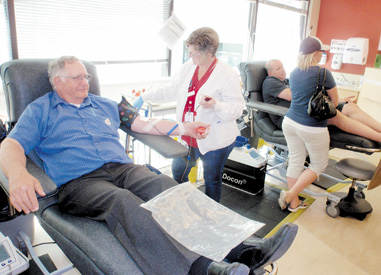 GIVING THE GIFT OF LIFE: Gerald Fawns donates blood for the 100th time at the Lethbridge clinic with the support of plenty of family on Cornfest Saturday last month. TIMES PHOTO SUBMITTED
By Greg Price
Taber Times
gprice@tabertimes.com
Cornfest 2017 proved a special one for Taberite Gerald Fawns in more ways than one.
Along with getting to celebrate with family who came from all over including Spruce Grove, Stony Plain, and Wetaskiwin, Fawns also reached the century mark on Cornfest Saturday in times he has donated blood.
"We really want to celebrate the accomplishment of the donor in Taber for this milestone. Long-time donors play a really important role in inspiring Canadians to become regular donors and meet Canada's future needs," said Deb Steele-Kretschmer, a spokesperson for Canadian Blood Services. "We really like to honour the loyalty and commitment of our donors because every donation counts, whether it's the first one or the 100th."
Now in his 70s, Gerald donated blood for the first time when he was in his early 20s.
"They had evening sessions in Welling at the church. As a young guy and I went there whenever I could, but then they started having day sessions during the day and I couldn't leave work," said Fawns.
Gerald's interest in blood donation was invigorated once again once when a blood donation clinic opened up in Lethbridge for everyday use which is where he went for his benchmark donation on Cornfest Saturday.
Gerald possesses the Holy Grail of blood types with being type O negative, meaning he is a universal donor. The O negative blood type is particularly helpful in emergency situations. The blood type is called universal because it can be transfused to almost any patient in need of whatever blood group. It is important in emergency situations whenever an individual requires immediate blood transfusion. It is also the safest for newborn infants, especially the ones with underdeveloped immune systems.
"The need for blood is constant. Every minute of every day someone needs blood products and they rely on the generosity of more than one donor. For instance, eight donors a week are needed to help someone with leukemia and up to 50 donors to help someone in a motor vehicle accident," said Steele-Kretschmer.
However, O negative blood type like the one Fawns possesses is relatively rare compared to the other blood types. It is only present in 1 out of 15 individuals. Approximately 6.6 per cent of the population has O negative blood. Not all of the ethnic groups share the same proportions of O negative blood types. This blood type is present in about eight per cent in Caucasians, four per cent in African American, four per cent in Hispanic, and one per cent in Asian.
"When they opened up the clinic in Lethbridge, I started going regularly and when you possess O negative, they are always phoning you because they always need blood," said Fawns.
Men are allowed to donate blood every six weeks, with it being every eight weeks for women, according to Fawns. Originally nine members of the Fawns clan were supposed to donate blood on Cornfest Saturday, but one came down with a cold and the other had their iron levels too low.
"For blood donation, you have to meet certain criteria. It used to be you couldn't donate blood after you were 70 years old, but they changed that, that you could donate after 70 if you had a doctor's certificate saying you are healthy. Now, it has got to a point that if you pass their criteria, then you are good to donate," said Fawns. "All together as a family, we've donated about 210 times. Hitting the 100 mark, we thought we'd celebrate it together and donate. A lot of people need blood, especially those with cancer," continued Fawns, adding the special family moment included a daughter-in-law donating blood for the first time.
Fawns is 73 years old himself and still remaining strong in his commitment to blood donation.
"What happens is when you get older like me, a lot of people start going on medications and some medications you can't donate. That's usually the stopper. Like blood thinners or things like that," said Fawns.
For Gerald, he feels donating blood helps himself as well as the people who could use his donation.
"I treat it like an oil change. I figure if I give a little bit of blood, my body needs to make new stuff and it might not bee too bad to get some new stuff in there moving around," he said with a chuckle.
With one pint being taken per donation, that's approximately 100 litres of blood Gerald's family has donated in the area. Each blood donation can help save three to four lives. Hundreds of lives have been affected by the Fawns family blood donations.
With the long weekend having come and gone, the need for blood donation is stressed even more.
"They always bring it up on the news on the long weekend because of car accidents with the increased traffic," said Fawns.
According to Canadian Blood Services, half of all Canadians will either need blood or know someone who will need blood at some point in their lives, yet only four per cent of Canadians donate.
Summer time usually sees Canadian Blood Services see a drop in donations.
"That's a time when our regular donors are off enjoying life, maybe traveling and spending time with family and maybe not being able to commit time or remembering to make an appointment," said Deb Steele-Kretschmer.
As the Labour Day weekend approached, Canadian Blood Services was urging Canadians to help fill 25,000 open appointments across Canada.
"What we saw was Canadians rally and help fill the appointment gap. As of Aug. 28, there were only 10,000 appointments available across Canada and we (were) on track to have those appointments filled by the end of Labour Day," said Deb Steele-Kretschmer. "We are very blessed by the fact that Canadians do rally to the cause and they are committed to helping people in the situations where the do need blood."
The need for blood is constant as blood is a perishable product.
"A lot of people say why can't you collect a bunch of blood, save it and use it over time. It is a perishable product, but we are blessed that we have a national inventory, so we share blood across the provinces. But we need to collect 17,000 units of blood every week to meet patient demand," said Deb Steele-Kretschmer.
As school starts in the fall, Steele-Kretschmer refers to it as early New Year's as it is a great time to get into regular routines and resolutions that will carry throughout the school year.
"It's a good time to consider returning to blood donation or trying blood donation as one of their goals for the fall, because what you are really doing is helping save lives," said Steele-Kretschmer. "We really appreciate people considering making blood donation part of their routine. Only one in two Canadians are eligible to donate, but actually only one in 60 does. That means even though half our population is eligible to donate, only four per cent actually does."
If one would like more information on blood donation and the screening process or to locate a blood clinic near you, you can log onto http://www.blood.ca. The closest permanent sites near Taber are Medicine Hat and Lethbridge.
"We are dedicated to the safety and sustainability of our blood products," said Steele-Kretschmer. "We have a variety of eligibility requirements to ensure not only the patient safety, but the donor safety as well."