Jean pitches his platform at Cornfest
Posted on August 30, 2017 by Taber Times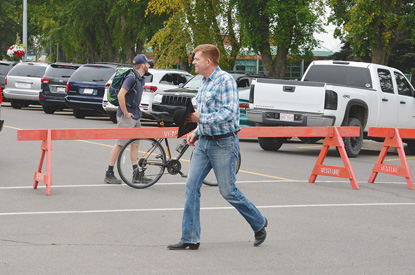 EVERYONE LOVES A PARADE: United Conservative Party leadership candidate Brian Jean particpated in the Cornfest Parade on Thursday. TIMES PHOTO BY TREVOR BUSCH
By Trevor Busch
Taber Times
tbusch@tabertimes.com
Challenging for the leadership of the newly-minted United Conservative Party in October, former Wildrose Party leader Brian Jean was on the campaign trail in Taber last week.
"I'm obviously here to share my message and to listen, to make sure that people have an opportunity to talk to me, and tell me what their priorities are, and also to ask me questions about what my priorities would be if I was the leader of the United Conservative Party. I want to share with them the ideas that I have on policy; I'm hoping we can have good discussions about it, and how we can take back the province and make it way better because it's all about quality of life for the people and making sure that they're in charge of their destiny — which I think we should be in charge of their government."
Jean arrived in the community on Thursday to take in some initial Cornfest celebrations and participate in the annual parade, as well as bring his leadership message to local voters and supporters.
"The biggest message I'm trying to send to them is just that we're in difficult times right now, but don't lose sight of the vision and the hope that we have in front of us. We need to take back control of our destiny, our future, and I think that everyday Albertans should be involved in the political process as much as possible. For $10, they get to buy a membership, and decide on not just the next premier of the province, but they also get to decide on policy. That's why I'm asking people to get involved, because I want as many Albertans as we possibly can to be involved in the political process, to decide on policy as this party goes forward, when they become government and implement it. I do believe that people make good decisions, that they're smart, they're well educated, and they should be in charge of their future. The more they're involved in the political process, and the more they're involved in this particular party — because they have the opportunity to create policy every year — then I think that's going to give us the greatest amount of accountability in government as well."
Currently the MLA for Fort McMurray – Conklin, Jean was most recently the leader of the Wildrose Party, which merged with the PCs to create the United Conservative Party. Jean was a federal Member of Parliament who represented the riding of Athabasca from 2004 to 2006 and Fort McMurray – Athabasca from 2006 to 2014 in the House of Commons. After resigning from the House in 2014, he returned to political life in February 2015 by announcing he would seek the leadership of the Wildrose Party.
So far squaring off against three other candidates in the Oct. 28 leadership vote, including former PC leader Jason Kenney, former Wildrose exec Jeff Callaway, and Calgary lawyer Doug Schweitzer, Jean pointed to his reputation and experience as a businessman and litigator.
"It's hard to talk about other people in any race, but what I can tell people is that I've been in Alberta over 50 years now. I'm from Fort McMurray, I'm very proud to be from Alberta, I'm a very proud Albertan, and I think that's extremely important because I'd rather be here than anywhere else on the planet. I'm a businessman, I've owned and operated over a dozen businesses successfully in Alberta, and I've employed a lot of people — in Western Canada, not just Fort McMurray. I've been a litigator, I was a lawyer for 25 years now, and I was a Parliamentarian for 10 years, and of course I was leader of the Wildrose Party for two and half years. I've got the most experience politically, I have the most experience in business, and I have the most experience in law. More important than any of that, I'm the youngest of 11, I'm the son of a rancher who taught me the values of hard work and honesty, and what it means to be a good Albertan."
Jean hopes to eliminate any vestiges of a elitist attitude among Alberta conservatives and bring power back into the people's hands should he be elected to the leadership of the UCP.
"A government that responds to their priorities, and works for them, not for ourselves. I truly believe — and I've said this since the very first time I started — I'm not a career politician, I got involved in politics to make things better for people, but I've always said politics should be about public service, and that means serving the public, not serving themselves. That's why I believe that we need to make sure that the people in politics actually have that same philosophy, because the people that are serving themselves have no place in a Brian Jean government. Those cronies and political insiders, and the elitists — they're not invited."
Breaking slightly with the opinion of some of his opponents in the leadership race, Jean did have some supportive words for NDP Premier Rachel Notley's handling of the Fort McMurray wildfire in 2016, although he went on to condemn her party's fiscal record.
"I can't say that they've done everything bad. It's easy to say that, but I'm not going to say that. I think they've brought in a couple of good pieces of legislation, and we've actually cooperated on those — taking big money out of politics is one of those. I have to give her (Premier Rachel Notley) her dues — she did a good job after the fire in Fort McMurray, communicating with people, and I appreciate that, I've told her, and I've told people that. So she's done some good things, but overall, what she's done to the economy, and what the NDP have done to the economy here in Alberta is going to be devastating for decades. The record amount of deficit, the record amount of debt, and the direction they're sending our regulatory environment is just going to make it a more expensive government that frankly I don't believe will be providing Albertans what they want."
The fiscal freight train of debt and deficit to which the NDP have hitched their caboose needs to be brought to a screeching halt, according to Jean.
"Whether it's Bill 6 — which I've obviously taken the position that I'll repeal, or change, there are a couple of good things in Bill 6, but not very many — so we would make some serious changes to that. Also the carbon tax is gone immediately. The labour changes that they've made, for instance taking away the secret ballot, is unacceptable. If the secret ballot is good enough to vote for your premier or your prime minister, why wouldn't be good enough to vote for whether or not you want a union? But what they've really done is sent tremendously bad signals to the international investment community, the domestic investment community, that says that Alberta is not open for business, that we are going to have record amounts of taxation, that we are going to have record amounts of regulatory oversight — we already are the highest regulated environment in the world for oil and gas — ultimately these things are going to be counter-productive, and going to hurt our economy. Record debt — $90 billion — means that people, instead of spending on their priorities or vacations or what they need for their family, they're going to be spending $2,500 paying debt every year, or $2.500 for a carbon tax. That's $5,000 out of the average person's pocket."
The province's recent first quarter fiscal update shows the NDP are unwilling to accept financial realities, to the detriment of future generations of Albertans, added Jean.
"I was disappointed, and I continue to be disappointed. The first deficit they put forward, they obviously hit. This deficit they've put forward, they're not even able to meet this deficit without going into our rainy day fund by a half a billion dollars. It's just spend, spend, spend — if Albertans can't do it, why do they think they as Alberta's government can do it? They serve the people, and they need to recognize that we need to turn in that other direction and find some efficiencies or else we're going to be paying off our debt forever. We're going to be in a position like Ontario, who are paying $1 billion in interest a month. We can't do that. A billion dollars in interest can pay for a lot of hospitals, a lot of streets, upgrading the roads, and all those great things that we want, it shouldn't be going toward big banks. There's no reason why Alberta should have debt. We should have money in the bank."
Jean's central message was a renewal of democracy for the province, and putting power back into the hands of everyday Albertans.
"Participate in democracy. There has been no more important time in our history to be involved than right now. And under a Brian Jean-led united conservative government, we would see reaction from government based upon the priorities of the people, not based on the priorities of myself, or the elite, or political insiders. It will be based on what the people of Alberta want. And we will make sure that we decentralize power, more local decision making on infrastructure, on health care, on education, and making sure that parents are in charge of their children, always, especially when it comes to education."