Expansion of Cornfest growing its enthusiasm
Posted on August 30, 2017 by Taber Times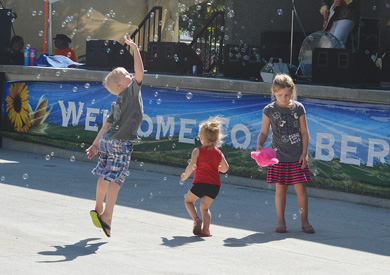 TIMES FILE PHOTO
By Greg Price
Taber Times
gprice@tabertimes.com
Cornfest 2017 proved to be bigger and better than ever as mostly positive feedback has been received with the numerous tweaks that were done this year.
"With some of the changes we tried to do this year, I think some of them worked really well and others we are going to look at again, tweak some things and make some adjustments," said Mark Garner, chairperson for Cornfest 2017.
For the first time, Cornfest extended well into Thursday, with the Cornfest parade, opening ceremonies, the farmer's market and a full evening/night of entertainment on the Taber and District Chamber of Commerce Stage.
"With the addition of the new stage, it allowed us to go on Thursday with entertainment where we bridged that with the opening ceremonies moving from Friday to Thursday. It made for a better flow of the whole event," said Garner. "You kicked off the event with the parade, followed by the opening ceremonies and then the entertainment and the midway. The parade was fantastic, the opening ceremonies were well attended. It was nice to have all the dignitaries come over from the parade straight to the stage."
The road was closed on 50th Street from 48th Avenue to 50th Avenue to relieve traffic congestion in a high-use area with foot traffic making their way to Cornfest at Confederation Park.
"The reason behind that change was to make things safer and make things more user friendly for people to attend," said Garner. "Most of the feedback we got from blocking off 50th Street has been positive. We also have to congratulate the people of Taber for adhering to those changes and supporting us in that. We tried hard to control who goes in and goes out of those barricades. There were volunteers that were there, that worked long hours. We had a few incidents where people were rude with them, but we dealt with those immediately. But overall, people were happy with the change."
Questions continued to swirl in coffee row of whether or not the two days of fireworks were going to go off this year with a provincial fire ban in place. The fireworks did indeed go off both days, with concerns more of another part of Mother Nature which was one of the driving forces to showcase fireworks over two days instead of the previous one in past Cornfests.
"We knew we were going to shoot the fireworks if the wind allowed us to do that. Wind is always the determining factor," said Garner. "As far as us being able to shoot them with the provincial fire ban on Crown land, when people hear that, each municipality has jurisdiction over what can or can't happen which is my understanding from Chief (Steve) Munshaw."
Shooting fireworks over irrigated land, Garner assured precautions were taken prior to the fireworks displays on Friday and Saturday night, including extra watering the days of the shoot. The ditch along the entire rail track was doused by Ground Tech and saturated, so that any dry tinder or potential flame-up areas did not come into play.
"Part of the reasoning we wanted to go both Friday and Saturday was the determining factor of wind. If we put all our eggs in just one basket, say Saturday where you shoot them all off, and the wind is against us that day, we have zero fireworks for the event," said Garner. "This way, if you spread it over two days, the hope is you can be successful getting fireworks for at least one day, if not two."
Minted for the first time were commemorative Cornfest coins that were sold for $10 apiece with 25 in production.
"Final numbers are not in on it, but last I heard, we had about 20 left," said Garner in his Monday morning interview with The Times. "I would imagine those will sell in the next few days. As the maiden voyage for that project, we partnered with the Town of Taber and we definitely think that could become an annual event with a different minted coin every year."
It is impossible to get an exact head count with no gates at the largest free family event in Western Canada, but as Garner patrolled the grounds for the three days on the weekend, the eye test showed more foot traffic than last year.
"I've always said Cornfest from the start has four key elements in the recipe. Number one is the chamber (of commerce), two is the Town of Taber helping us out, three is the M.D. of Taber helping us out and four, and certainly not least are the sponsors who make this all possible," said Garner. "There are people and sponsors who give year after year generously to this cause and we are thankful from the bottom of our hearts."
As always as Garner noted, planning for Cornfest 2018 has already begun with Cornfest 2017 in the books.