MCing done with glee at Cornfest for 'Wild' Bill Lawson
Posted on August 24, 2017 by Taber Times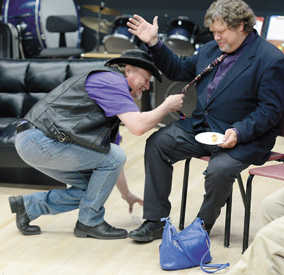 TIMES FILE PHOTO
By Greg Price
Taber Times
gprice@tabertimes.com
They say many people fear public speaking more than they do death.
The term is glossophobia, but for Taberite 'Wild' Bill Lawson, he has not had any sort of phobia when it comes to the gift of gab.
Lawson will once again be the master of ceremonies for the length of activities on or near the Cornfest stage at Confederation Park.
A Taberite of 14 years, Lawson moved from Lethbridge where he did New West Theatre for years and has been around playing in bands for most of his life. Lawson was doing some announcing for Canada Day in Lethbridge and inquired if he could do the same in Taber when he moved.
From there, Lawson continued to grow in the public eye, becoming part of Taber Players theatre group along with MCing several other events including the Taber and District Health Telethon and Cornfest. This year Lawson was master of ceremonies for the first ever Aboriginal Day and Pride Fest in Taber in 2017.
"Someone sees you at one thing and they ask you to do another. It's all just community service to me. I've got kids and got a grand kid, and I strive to tell them that they are not in this world alone. If there's something you can do, but I got off easy," said Lawson. "I'm just having fun (master of ceremonies). It's the guy going around picking up garbage, volunteering to run Cornfest is doing way more than what I'm doing. I'm having fun (MCing at Cornfest). I see behind the scenes how hard people are working to make Cornfest a success to get things done. I always try and point those guys out and give them their due. Hug a volunteer. This community pulls together in so many different ways."
Lawson also hosts karaoke at The Oilmen's Club in Taber.
"Because I had experience doing theatre and improv, public speaking is not scary to me. You just have to remember, everybody is your friend, nobody wants to see you fail. If they do, they are a jerk, and you don't care what they think anyway," said Lawson. "You read the crowd, and with a place like Cornfest, it's family friendly."
Lawson admits he does a lot of improvising as he announces Cornfest activities throughout the last weekend of August, although he has lists in tow of entertainment schedules and sponsors.
"You have to remember you have a job to do. When I'm at the Oilmen's, my job is to sell alcohol. When I'm at Cornfest, the bottom line is my job is to advertise those sponsors who make Cornfest possible and get the day flowing with the different events," said Lawson. "You walk a line between being professional, but also humorous and friendly so the families can enjoy. You don't want to be stuffy at all. You can call out a few people from the stage, but you have to make sure they are people the whole town knows and if you make a little joke at somebody, you have to make sure they can take it and the town knows you are joking."
But any joking Lawson does to loosen up the Cornfest crowd, he added an MC has to make sure it is not overpowering, taking away from the flow of events.
"The people you are introducing, the sponsors, the vendors, the volunteers, the midway, the events, the entertainers, they are the stars," said Lawson. "You are just there to glue it all together and be someone who can have fun, sort of the ringmaster, not the circus," said Lawson.
For those who may find big crowds intimidating as they speak, Lawson advises breaking it down like you are talking to one person.
"You are imparting the information to one person where just everyone else can hear it. Make it as personable as you can, make it like people think I am talking to them and be understood with enunciation," said Lawson.