Unite vote wins in landslide
Posted on July 26, 2017 by Taber Times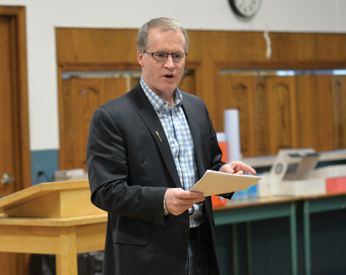 TIMES FILE PHOTO
By Trevor Busch
Taber Times
tbusch@tabertimes.com
Alberta's United Conservative Party has been given the green light by the memberships of the Wildrose and PC parties in a resounding show of support on the unity question, which saw 95 per cent from each party vote in favour of the merger.
"It was very positive, and I think having 95 per cent of both parties ratify the deal shows that there's a real appetite out there to unite like-minded conservatives under one tent," said Cardston-Taber-Warner MLA Grant Hunter. "This is what I think was shown on Saturday."
Put forward for consideration on May 18, the unity agreement was ratified on Saturday by both party memberships, but it was no foregone conclusion heading into the weekend. While the PCs only needed the approval of 50 per cent of their membership, the bar was much higher for the Wildrose, which needed a minimum approval threshold of 75 per cent.
"When I polled my riding, it showed 89 per cent support. We have a pretty conservative riding, so I was surprised it was 95 per cent, I thought it would be around 85 to 87 per cent, because I'd heard that up in the northern part of Alberta, they weren't as excited about it — but I guess I was wrong," said Hunter.
In the wake of the unity vote, a leadership battle is now shaping up between former PC leader Jason Kenney and former Wildrose leader Brian Jean, which will conclude at a leadership conference scheduled for Oct. 28. Calgary lawyer Doug Schweitzer will also be joining the fray, and speculation has surrounded the intentions of MLA Derek Fildebrandt.
"Now there's no such thing as a Wildrose member or a PC member — now we're just United Conservative Party members," said Hunter. "We're electing an interim leader for the next three months until we have our leadership (conference), which is on Oct. 28. So we'll elect our new leader, and then after that, sometime in early 2018, we'll have our founding convention where we'll bring our members together and discuss and create a constitution and policies."
On Monday afternoon, the legacy Wildrose and PC caucuses elected the UCP's interim leader, Olds-Didsbury-Three Hills MLA Nathan Cooper.
"We'll be holding the NDP government to account," said Cooper in a press release. "As the NDP continues to fail working Alberta families by imposing risky, ideological policies that cause job losses across the province, our caucus is united in its goal of advocating for strong, common sense solutions that create jobs for Albertans."
Locally in the Cardston-Taber-Warner constituency, Hunter reported that the two party organizations will be appointing an interim board comprised of members from both, with an eye to determining a date for an annual general meeting.
"What's going to happen is the PC and the Wildrose boards will bring forward their interim board members and they'll form the United Conservative Party board in this constituency. So it will be joint between the PC and Wildrose boards. It won't be an election — it will have to be an AGM — and they'll have to decide when the AGM is going to be."
Expressing satisfaction with the outcome of the unity vote, Hunter described the future implications as nothing short of a paradigm shift in the province's political landscape.
"If you listen to what the press is saying, it could be the end of the NDP, which wouldn't hurt my feelings at all. I'm really excited about it, and how Albertans have really rallied behind this movement. We had up to 42,000 members — the most members we've ever had in the Wildrose ever — and the PCs were up to I think 45,000. It just shows there's a real groundswell, and a real appetite. A lot of people I talk to said normally they don't get involved in politics, but we've got to do something. So they're recognizing that power is in the people's hands, and that this is the way they can maybe bring back that Alberta Advantage is by helping this process get done."