Projects earmarked in $2.4 million donation
Posted on July 26, 2017 by Taber Times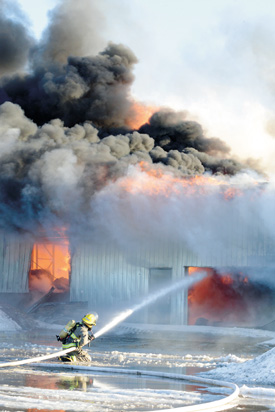 TIMES FILE PHOTO
Utilizing a recent $2.4 million windfall from the estate of a deceased resident, the Town of Taber has moved to allocate a portion of the funds toward a new fire hall facility that will bear his name.
The Town of Taber was the beneficiary of the estate of former Municipal District of Taber resident William Ferguson. Mr. Ferguson left the Town of Taber approximately $2.4 million dollars after he passed away in October 2016. 
According to the town, over the last year of council's term, that body had become aware the Town of Taber is lacking in affordable housing for young families, due to provincial fire regulations related to High-Intensity Residential Fire (HIRF) standards. As a result, developers in the community have been required to build homes with very specific materials and setbacks, raising the cost for housing. 
Improving the response times of the town's volunteer fire service, which could have a corresponding effect on the development community with regard to decreased input costs, has been a long-standing bone of contention for local developers with properties currently outside the radius of a 10-minute response time.
Following in camera (closed session) discussion at their July 17 regular meeting, council voted unanimously to set aside $1.5 million dollars for a new fire hall building, and $900,000.00 for the Trail/Trout Pond projects from the William Ferguson estate, with the fire hall to be dedicated and named after William Ferguson.
During the in camera portion of a public meeting, members of the general public, including the media, are barred from witnessing or participating in the proceedings or discussion, although all subsequent resolutions must be made in open session.
The MGA sets out clear requirements for municipal councils to conduct their business openly, except in very limited and specific circumstances. Under guidelines laid down by Alberta Municipal Affairs, as an elected body, municipal councils should avoid conducting business in-camera, that includes discussion of difficult topics such as budget deliberations, capital expenditures, tax recoveries, salary ranges or hiring of additional municipal staff, bylaw amendments, subdivision proposals, and "any contentious issues such as sensitive local issues."
According to Alberta Municipal Affairs, discussing the allocation of public funds in closed session outside the scrutiny of local taxpayers is not a recommended best practice.
No public consultation was conducted prior to the town allocating the funds received from the Ferguson estate, and is is unclear if any other potential projects were considered as a possible use for the funds. According to the town, by building a fire hall in a more central location, response times to fires will be lowered "providing additional safety to residents" and "allowing builders to build more cost-effective homes."
"We wanted to make sure the very generous donation Mr. Ferguson has left for the Town of Taber was put towards a use that would provide the highest benefit to the community as a whole," said Mayor Andrew Prokop in a press release. "And to guarantee there would be a lasting reminder of his kindness."
Council was also aware there is a desire for increased summer recreational opportunities in and around the town. To help address this additional issue, council looked to the Recreation Master Plan, where residents indicated walking trails are the number one recreational priority for Taber residents.
Facilitating the wish of the community, council has set aside a portion of Mr. Ferguson's donation to be used towards the development of walking trails and the Trout Pond rehabilitation project in collaboration with Alberta Conservation.
The Walking Trail and Trout Pond Project is intended to provide all residents of Taber the opportunity to enjoy recreation in the area without passing on additional cost burdens to taxpayers. 
"Above all, the Town of Taber is incredibly grateful for Mr. Ferguson's generosity," said Cory Armfelt, Chief Administrative Officer, "And honouring the man in the way that council has chosen is a great way to ensure a long standing legacy. Both these projects are great for community enhancement and have long term value."
Three potential scenarios for relocating the town's fire hall to meet a 10-minute response time were presented to town council in May. The town's HIRF Committee met three times to compile information from previous studies and present research into a HIRF report that outlines the case for relocating the Fire Department and how to alleviate costs.
Alternative 1 suggested council approve the Taber Fire Department being relocated to, "Within 500 m2 of the 50th Street and 50th Avenue intersection," and that council approves building an eco-friendly or LEED (Leadership in Energy and Environmental Design) certified fire department fully funded by the Energy Conservation Capital Reserve.
There was no indication in this option regarding a specific location, or if it might potentially involve the purchase or expropriation of privately-owned property or a reduction in the size of Confederation Park, considering the tight geographical guidelines put forward.
In its conclusions and recommendations, the HIRF Committee suggested Alternative 1 was the most favourable in terms of mitigating HIRF requirements and meeting the intent of, "prosperity and growth for the Town of Taber as well as the safety of residents."
To replace the current fire station with all the amenities of the current hall, some estimates have run as high as $5-$6 million, but in the HIRF Committee's report, it was stated that through review of information compiled by fire chief Steve Munshaw, the total cost of relocating and constructing a new fire hall is now estimated to not exceed $2.5 million, although there was no information included regarding how this figure was reached by administration or the committee.
The town was also silent on whether taxpayers will be picking up the total expense for a new fire hall construction, or whether the town's development community will be contributing to the cost of the project.
Although no specific timeline for the projects has been released by the town, according to administration, "as per council's wishes, administration will be working immediately to bring these two projects to fruition."