New location for fire hall continues to gather heat
Posted on July 19, 2017 by Taber Times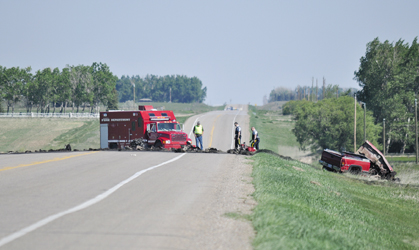 TIMES FILE PHOTO
By Trevor Busch
Taber Times
tbusch@tabertimes.com
With various departments eyeing additional space for themselves should the town choose to relocate its present fire hall, there was no surprise town administration appears to be in full support of the proposed initiative.
In a new report submitted to town council at their June 26 regular meeting, entitled Fire Hall Relocation – Benefits to Administration, an analysis of the benefits of a relocation to various town departments was detailed. According to administration, the results of the report "shows that relocating the fire hall has many benefits to town administration."
Improving the response times of the town's volunteer fire service, which could have a corresponding effect on the development community with regard to decreased input costs, has been a bone of contention for developers with properties currently outside the radius of a 10-minute response time.
The Alberta Building Code in 2006 addressed high intensity residential fires (HIRF), identifying a need for fire departments to respond in under 10 minutes more than 90 per cent of the time. Due to this decision, towns with fire departments unable to achieve this threshold within their response areas would require new buildings to have sprinkler systems installed, increased setbacks or changes to windows and nonvented soffits.
Under public works, the report indicated that due to HIRF requirements, for every lot that is developed, 0.006ha of additional land is consumed and an extra 4.8 metres for various infrastructure and servicing components required for development. This additional infrastructure becomes property of the town, which is then responsible for ongoing maintenance, repair and eventual replacement.
"Room to grow our ever-expanding services is inevitable and needs to be addressed, having the fire department relocate allows public works that room to grow," reads the report. "Most of our fleet must be indoors at all times for emergency purposes for snow removal, water breaks, and sewer backups. Our additional staff also need to grow to enhance their capabilities and maintain efficiency within public works and better service Taber's citizens."
Perhaps not surprisingly, the fire department appeared to be in full support of the idea, suggesting relocating the fire hall to a central location would decrease response times, with recent studies showing a five minute faster response time. This would "increase the citizen's safety with more efficient response times and improved service." The department argues that shaving five minutes from response times can reduce "the number of deaths, disabilities, and property loss, (and) reduce costs to citizens and the town."
"The second benefit is the elimination of HIRF requirement, which requires the fire department to be on scene and flowing water in under 10 minutes 90 per cent of the time," states the report. "Removing HIRF would allow developers and builders to build more cost-effective housing, possibly attracting larger corporate businesses to our community that require a larger workforce requiring more cost-effective homes."
Planning and economic development's position on the idea was predicated on the assertion that the relative cost of housing in Taber is high compared to surrounding centres, which ultimately negatively impacts the growth of the community. HIRF for properties outside a 10 minute response time require expensive additional inputs, driving up total costs, estimated to be an additional $11,245 per lot passed on to prospective home buyers.
"In addition to costs, larger lot sizes jeopardize efficient land use and smart growth patterns," reads the statement in the report. "Continuing development patterns with the fire hall in its current location will result in an inefficient growth pattern for the town."
Again no surprise, the parks department — which could be taking over new digs with any potential relocation of the fire department — was far from critical of any prospective move, which would "provide adequate storage for expensive equipment" and "space for staff to complete inspections and repairs" as well as a "centralized meeting space for effectiveness of managing the team."
A move would also allow staff room for proper storage of personal equipment such as clothing and boots, and separate personal items from the lunch room. Additional training, storage and office space is also a need, according to the report.
"The storage space for the Aquafun Centre is maxed out, as is the auditorium. There is also a lack of storage at the shop and as such, smaller items that should have been indoors over the years have been stored outdoors."
Three potential scenarios for relocating the town's fire hall to meet a 10-minute response time were presented to town council in May. The town's HIRF Committee met three times to compile information from previous studies and present research into a HIRF report that outlines the case for relocating the Fire Department and how to alleviate costs.
Alternative 1 suggested council approve the Taber Fire Department being relocated to, "Within 500 m2 of the 50th Street and 50th Avenue intersection," and that council approves building an eco-friendly or LEED (Leadership in Energy and Environmental Design) certified fire department fully funded by the Energy Conservation Capital Reserve. There was no indication in this option regarding a specific location, or if it might potentially involve the purchase or expropriation of privately-owned property or a reduction in the size of Confederation Park, considering the tight geographical guidelines put forward.
In its conclusions and recommendations, the HIRF Committee suggested Alternative 1 was the most favourable in terms of mitigating HIRF requirements and meeting the intent of, "prosperity and growth for the Town of Taber as well as the safety of residents."
In a new analysis compiled by FireWise Consulting and presented to town council in 2016, according to historical data over the previous three years reviewed in the report, Taber's fire service was able to respond to fires in the town in less than 10 minutes 67 per cent of the time, however it was still more than 20 per cent below the 90 per cent threshold established by the province.
The FireWise report concluded that while a more centrally-located fire station (closer to Taber's downtown area) could meet the 10 minute response time threshold, analysis suggested this option would be prohibitively expensive for only a marginally improved benefit. To replace the current fire station with all the amenities of the current hall, the report estimated a cost in the range of $5-$6 million, and would also present potential traffic and noise issues in the area.
Glen Sanders of FireWise Consulting, who delivered the new report at town council's Feb. 22, 2016 meeting, suggested at the time that relocating the town's fire hall would be able to improve response times in certain areas, but questioned whether the cost involved would be in the best interest of Taber taxpayers.
"The answer is, yes it would, but is the cost worth the benefit?" questioned Sanders on Feb. 22, 2016. "It would improve the timing, but just barely."
Similar arguments by Sanders were aligned against the construction of a satellite fire station, such as expense, size and scope, and cost versus benefit.
In the HIRF Committee's report, it was stated that through review of information compiled by fire chief Steve Munshaw, the total cost of relocating and constructing a new fire hall is now estimated to not exceed $2.5 million, although there was no information included regarding how this figure was reached by administration or the committee.
On June 26, council voted unanimously (5-0) to accept the report as information. Coun. Rick Popadynetz was absent.