Horizon passes budget
Posted on July 19, 2017 by Taber Times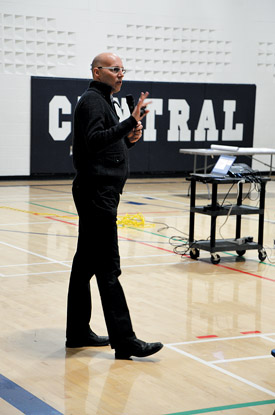 TIMES FILE PHOTO
By Nikki Jamieson
Taber Times
njamieson@tabertimes.com
The Horizon School Division will be in the red for another year.
During their regular June 20 meeting, the Horizon School Board went over the next year's budget, which featured another, albeit smaller, deficit.
In the budget for the 2017/18 school year, the board is expecting to bring in $45,894,916 in revenue. Included in that is $43,393,563 from Albert Education, $11,959 from facility rentals, $320,000 from fundraisers and $850,378 from fees. Under expenses for the year, the board expects to spend a total of $47,581,509, which includes $33,433,785 in instruction for grades 1-12 and $2,890,250 for transportation.
Overall, the division plans on ending with an annual deficit of $1,686,593 by the end of the 2017/18 year.
According to the board's updated budget for the 2016/17 school year, the board brought in revenue of $45,426,650 — about $460,000 less then the coming year — and had expenses of $48,177,451 — about $600,000 more then the coming year — for an annual deficit of $2,750,801, or over $1,000,000 more then they expect for this year. This is due to the division receiving less money on items such as funding from Alberta Education (43,033,089), fees ($770,000) and fundraisers ($250,000), as well as spending more on Instruction Grades 1-12 ($34,114,894) and plant operations and maintenance ($7,041,421).
"Most of the schools received something out of reserves last year, so that board deficit last year was approved at $2.6 million," said Phil Johansen, associate superintendent of finance and operations for Horizon. "However, it was also approved with the mandate that the administration begin a process for finding places to trim, finding places to reallocate and addressing the deficit that was growing, not just in those items that the board approved as one-off items, but our deficit has grown in our main operations as well."
"Through discussions with the board through this year, the indication from the board was we did not want to do this all in one year, because it would create a kind of shock in the system. So the board has given administration up to three years to correct this."
Johansen said that over the year, they had done consultations with principals, dealt out funds on a per pupil model to help even out some discrepancies between schools and did not claw back accumulated reserves at some schools. It was recommended that the board target a $1,000,000 deficit in instruction and approve the assessment coach — an experienced teacher with an approximate cost of $112,000 — for another year.
One thing that happened since the budget was sent out was the tender for transportation services had come, and it would exceed what they had earmarked for transportation. Although they will see what routes can be cut or expanded to help save money, right now they expect to have a deficit of $65,000 in their transportation budget. The division's insurance on buildings is also going to increase by 15-20 per cent, or by about $20,000.
"The rational that they gave for the increase was basically the Fort McMurray wildfires."
As schools have also completed their budgets, they have indicated that they will be utilizing about $475,000 of their carry over to help fund their budgets. Johansen said that at the end of this year, it would mean that the school's carry overs will be about $1,100,000.
These additions would mean that the division will end up with an annual deficit of $1,686,593 by the end of the 2017/18 year. As it includes amortization — money spent on capital items that have been expensed over a period of time — and schools dipping into their reserves, the net draw on the board's cash reserves will be about $750,000. As school funding is based on enrollment, Johansen said he will be able to give an update after September.
Although lower then the 2016/17 Fall Budget Update deficit of $2,750,801, the division cannot keep dipping into the reserves like this.
"I would suggest that this next year, we need to aggressively look at our operations, and see if we can do it in two years instead of three perhaps," said Johansen. "I will say this; this year, we had a surprise where there was almost a hundred kids that didn't show up that we expected. Next years projection, we are expecting, we're projecting another 36 student decline. But I will say as I've looked at it, especially on the kindergarten enrollment, it seems very low. I think that it's a pretty conservative estimate on the kindergarten enrollment."
The board accepted the budget.