Friendships forged in the barber's chair over five decades
Posted on July 19, 2017 by Taber Times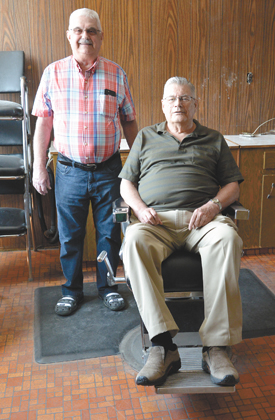 CLOSING TIME: Dave Laurie and Keith Peterson spent over five decades honing their barbering, with most of those years in Taber, as the duo retired from the Central Barber Shop earlier this year. TIMES PHOTO BY GREG PRICE
By Greg Price
Taber Times
gprice@tabertimes.com
After more than five decades of perfecting the art of the men's haircut, business partners Keith Peterson and David Laurie retired from the barber trade in May in Taber, closing the doors of their Central Barber Shop downtown.
"When I graduated from high school, I was still undecided what to do with my future," said Peterson. "One day I got a haircut at Central Barber Shop and it got me thinking about the barber trade."
That is when Peterson decided to attend barber school in Lethbridge in 1963, which is where he met Laurie, in which a life-long friendship and eventual business partnership would be formed.
"We got along pretty well and kept in touch when we completed our training. Keith went to Taber to work at Central Barber Shop and I worked at the barber shop in the Marquis Hotel in Lethbridge which is presently the site of the main branch of the Royal Bank," said Laurie, adding anybody could be a Dapper Dan back in those days with a nice-looking haircut for $1.25.
Peterson would buy the Central Barber Shop in 1964 from Mike and Paul Lychak, who Peterson apprenticed with.
"In the spring of 1966, Keith was talking about adding another barber and asked me if I would like to make the move. So Easter weekend, my wife and I moved us to Taber," said Laurie.
Peterson eventually would decide to sell 50 per cent of the business interest in Central Barber Shop to Laurie. Some people say mixing friendships with business is not always the best thing to do. But with what Keith and Dave proved in 51 years of working together, it proved a very successful bond.
"Not very many partnerships last that many years. I think the success of this partnership was that we kept things simple and used a little common sense. I really enjoyed having Dave as a partner," said Peterson.
That business partnership enjoyment included Keith and Dave cutting the hair of four generations of boys/men in one family.
With plenty a joke pinned up on the walls of the Central Barber Shop, some even being a little off colour and risqué, the Central Barber Shop served as a sort of old fashioned 'man cave' where men could be men and nothing was off limits to what could be discussed in today's world of political correctness.
"I always felt comfortable discussing politics, religion or anything else. We were like a bartender. We had some customers telling us about some of their problems they were having, but we also heard of their accomplishments and successes," said Peterson.
"We always tried to keep a family friendly atmosphere in the shop, but no subject was off limits, which sometimes meant you had to bite your tongue," added Laurie.
"It's a shame to see over the years the trend go away from the old fashioned barber shop. In most cases, it's such a casual and relaxing experience. But there are no barber schools in Alberta and a stylist haircut and a barber haircut are two different animals."
Perhaps different animals, but where else could you get a haircut you were happy with every time, starting off at $1.25 back in the day to the still very economical $15 when Peterson and Laurie were doing their last haircuts.
Andy Tuveson got his haircut at the Central Barber Shop for over 30 years.
"They are really nice fellows. They did a great job on everyone's haircut and took the time on the final touch-ups. They are the type of persons that you felt very comfortable with and that you would like to have as a personal friend," said Tuveson. "I don't live in Taber anymore since I retired, but am still in Taber once a week, and continued to get my hair cut there until they closed."
Over the years, styles have changed and the Central Barber Shop had to adjust somewhat to those changes, with Peterson admitting at times it was a challenge.
"Hair styles are always changing, it can be tough to keep up and you won't always hit the mark. But as Chief Dan George said 'you must endeavor to persevere," added Laurie.
Cutting men's hair only, the barber shop used to give your classic hot shave, but stopped doing it when there wasn't a demand for it.
"There is a difference between barbers and hair stylists. We kept our business simple — we didn't take appointments and we just did walk-ins," said Peterson.
It was that simplicity of a good hair cut intertwined with good conversation and good friendships that made the Central Barber Shop a staple of the Taber business community.
"We learned a lot from our customers as to what was going on in town and in the surrounding communities. This is what I will miss about my years in business. I will also miss the jokes and stories we heard. We have many long-lasting friendships with our customers through our work," said Peterson.
What Laurie learned was that little did he know that when he started cutting a young man's hair 45 years ago, that he would be Laurie's son-in-law, or that he would give his only grandson his first haircut before he retired.
"I will really miss interacting with our customers, but you know in yourself when its time to hang it up," said Laurie.
For Peterson, his retirement came fairly suddenly.
One Thursday in the middle of May, he went home for dinner and told his wife he was finished working.
"I'm really enjoying retirement. I seem to find enough to keep myself busy, including some golfing," said Peterson. "I even find time to sit around and take it easy, even time to take a nap or two each day."
Both Peterson and Laurie are thankful for all the customers they had over the decades as barbers and thank them for their patronage.
The duo have sold the business to Shelly Ingram, who was raised in the Taber/Wrentham area.
She will be opening her shop as the 'New Central Barber Shop' at the exact same location.
"Dave and I would like to extend our very best wishes and success to Shelly in her business venture," said Peterson.