Canada Day features medal presentation for local resident
Posted on July 19, 2017 by Taber Times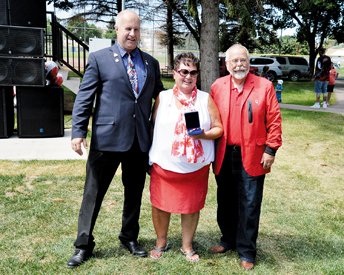 HONOURED: Governor General's award recipient Lolly Turner is flanked by Mayor Andrew Prokop and Bow River MP Martin Shields following a presentation ceremony on July 1. TIMES PHOTO BY TREVOR BUSCH
By Nikki Jamieson
Taber Times
njamieson@tabertimes.com
A local has officially been honoured by Canada for her volunteerism in the Taber community.
In a ceremony during Taber's Canada Day celebrations, Lolly Turner was presented with the Governor General Sovereign Medal for Volunteers by Bow River MP Martin Shields.
Turner learned that she had been awarded the medal back in November 2016, when she was contacted by the Governor General's office. Although she was offered the chance to travel to Calgary to receive it, she wanted to receive it in Taber, as a thank you to the community and the organizations who first nominated her.
"Because I have worked with all the organizations here, I thought it was very benefiting, to do it in the Town of Taber," said Turner. "I thought that was special for me, because these are the people that I volunteer for, and Taber's been a big part of my life, and this is where I've done it (volunteer).
And what better way, to give back to them?
"It was a very great honour."
You would be hard pressed to find an organization Turner has not volunteered for, as she has participated in and volunteered for just about every service group in the community. That includes, but is not limited to, Safe Haven, the Lions and the Lioness Clubs, Health Telethon, lunch programs at schools, Winter Games, Taber Terry Fox Run and the Taber Legion Ladies Auxiliary.
"I love volunteering my time. It's one way that I can give back to the community. And as long as I'm able to do that, I'll do that each and every day," said Turner. "It's just my thing to do."
"Without the help of volunteers, what would we have? If you look at any organization, without the volunteers, you don't have no help. We have to have volunteers, and I think in each one, you can give a little part of ourself with that, it so important… As long as I can give, I will do that."
The Governor General's Sovereign Medal for Volunteers aims to recognize Canadian volunteers who have made substantial contributions in their community, across Canada or abroad. It is an official Canadian honour meant for individual volunteers, not organizations, to honour their work. According to the Governor General of Canada's website, although Turner officially received her medal on Canada Day this year, she was awarded it on Dec. 14, 2016.
"Lolly Turner has volunteered with many organizations in support of seniors, children, persons with a disability, persons who are sick or terminally ill and veterans," reads the description on why she was given this honour. "Whether through Taber Cares, the Royal Canadian Legion's Ladies' Auxiliary, the Lions Club or other fundraising initiatives, she has helped make her community more accessible and inclusive."