Police investigate death on rail tracks in Taber
Posted on July 5, 2017 by Taber Times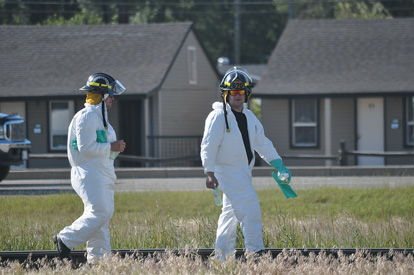 FATALITY: Members of the Taber Fire Department were dealing with an early morning fatality involving a person being hit by a train on Sunday. A local resident who was awake around the time of the incident confirmed they heard the "extremely loud" sound of a train braking. Police would not confirm if the deceased was from the Taber area, and the name has not been released. SOUTHERN ALBERTA NEWSPAPERS PHOTO BY J.W. SCHNARR
By Melissa Villeneuve
Southern Alberta Newspapers — Lethbridge
One person is dead after being hit by a train within the town of Taber this weekend.
Taber Police were called to the scene around 3:22 a.m. on Sunday after reports of someone being hit by a train. They conducted an investigation and found one person deceased.
The Taber Fire Department and CP Rail police also assisted in the matter. The provincial medical examiner in Calgary is conducting an autopsy. No further information, including the identity of the deceased, has been released.