Filgas leaves teaching after 40 rewarding years
Posted on June 29, 2017 by Taber Times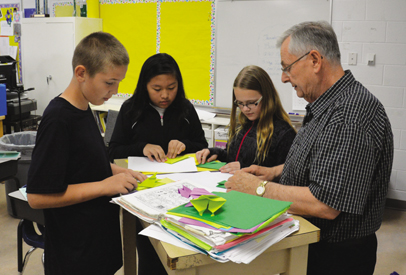 ART MENTOR: Tom Filgas (right) shows (left to right) Ryker Zuidhof, Gracia Eusebio and Vickie Dueck how to fold origami frogs during his second last day at L.T. Westlake Fine Arts Elementary School. After teaching for four decades, with the majority of them at Westlake, Filgas is ready to retire. TIMES PHOTO BY NIKKI JAMIESON
By Nikki Jamieson
Taber Times
njamieson@tabertimes.com
A long time fixture at L.T. Westlake Fine Arts Elementary School is leaving his class room behind.
After 40 years in the teaching profession, Tom Filgas is retiring.
"I said I would retire after 40 years – that was my goal," said Filgas, adding he would like some time to himself. "I've had a very full career, I've enjoyed my career immensely. I still enjoy my career, working with young people and parents and staff. And after 40 years, I think I've given the best service I can to the students, and I would like to move on with my life a little bit."
Filgas was inspired by teachers through elementary and high school, and decided on the career path for himself as he wanted to help people.
Filgas first began teaching at Vauxhall Elementary School 40 years ago. After three years there, he transferred over to L.T. Westlake Elementary School in Taber to teach, where he began as vice-principal.
During his tenure at the school, he taught grades 5 and 6 until the Grade 6 students moved into another school, after which he taught the Grade 5 class.
"This is my second home."
The most radical change in the teaching profession over the years is the technology used. When he first started, they didn't have computers in the classroom. Nowadays, there is Wifi in classrooms and kids using gadgets like iPads to assist them with their school work.
"It's advanced quite a bit," said Filgas. "In the future, I'd like to imagine that classrooms will be changing even more, where they can walk into a classroom, if they're studying a particular country, or a biome or something, they can walk in and have a hologram project the whole thing around the room, so the students are in the scene they're talking about."
Despite the passage of time, not a lot of things at Westlake have changed. Filgas said that throughout the years, the school has maintained a family atmosphere, a close knit staff and a focus on putting the students first.
"We've always been a bit of a fine arts school, because we've always done music and art and those kinds of things in our classes, so the transition change from a school, as it was, into its designation as a fine arts elementary school was quite easy for us I would say."
Westlake became a fine arts school at the beginning of its 2013/14 school year, allowing the school to place a heavy emphasis on arts in it's curriculum, introducing topics such as violin and guitar lessons.
Although they are still striking a balance between the arts and core subjects, Filgas says it has been fairly easy bringing the arts into their core subjects, citing math as an example.
"I had the students do an activity where they did their initials on folded paper, that was folded into four pieces, and then they moved that around, so they were doing slides, slips, turns, integrating the math into the art and vice versa," said Filgas. "It looks like a picture, and you really have to study it to realize that picture is actually somebody's initials."
Filgas has enjoyed working on the guitar and recorder with students, and doing collaborative and enrichment projects with his students. He recalls one project he had done with another teacher several years ago to teach students a writing process called PDEP (Prewriting, Drafting, Editing and Publishing). Grades 5 and 3 students would form groups, with Grade 5 students acting as the leaders. By the end of the project, the students would have ended up writing 16-20 page books which they published.
"By doing that, the students go to know each other very well, and in some cases we had families where the siblings who were in the same family would do homework together, which parents commented was a really positive experience for both of them."
Filgas advises that new teachers should not just jump on every education band wagon when it comes to teaching — especially as there is so many changes coming — but to find what works with their teaching style, adapting and changing as they continue in the profession.
He also cautions about being careful to not burn out, as he has seen a lot of teachers in their first three to five years of teaching lose their passion for it.
He recommends that new teachers look into mentoring programs with more experienced teachers, as they can help prevent the burn out.
Filgas' last day was on Friday, June 23, and his last duty will be to ensure his students have a good send off.
Once his classroom is cleaned out, he plans to get in some relaxing and cycling time this summer. He has several projects he would like to work on, and he would like to learn how to play the violin himself, as the PAC committee gave him one as a going away present.
That doesn't mean that he will be gone from the school forever; Filgas says he does plan on visiting the school.
"I wish the Westlake school and the students the best in the future, and I think things will (go) very well here," said Filgas. "I look forward to seeing what happens at this school in the future."