Taber woman arrested after high-speed pursuit
Posted on June 21, 2017 by Taber Times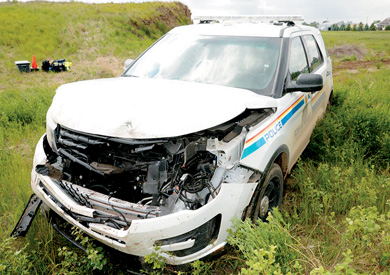 CHASE: A high-speed chase involving several different police agencies resulted in two disabled vehicles and multiple weapons being discovered in the suspect vehicle. TIMES PHOTO SUBMITTED BY RAYMOND RCMP
Last Wednesday, shortly before 2 p.m., Raymond RCMP received a call from a citizen reporting that his Dodge pickup truck, which had been stolen in May, was at a residence in the Town of Raymond.
Officers from the Raymond detachment responded and on arrival located the truck leaving from the residence. A traffic stop was initiated, at which time the stolen vehicle reversed and hit the police car with enough force to disable it.
A second officer from the Raymond detachment, who was already on route, pursued the truck which left Raymond and eventually entered a field. The truck rammed this second officer's marked police vehicle and rendered it inoperable.
During this second incident, an RCMP member discharged their service pistol.
The officers from Raymond RCMP notified surrounding detachments, as well as Lethbridge and Taber police, and requested assistance.
Members from the Coaldale, Picture Butte and Bow Island detachments located the vehicle a short time later and the vehicle once again fled from police at a high rate of speed.
It subsequently entered a field near the Town of Foremost. Overall, this pursuit took place over nearly two hours and 100 kilometres of provincial highway, with speeds up to 170 km/h. Based on the behaviour of the suspect vehicle and the resulting risk to public safety, a supervisor authorized the use of a marked police vehicle to make contact with the suspect vehicle and prevent it from continuing to flee.
The two occupants were arrested there without further incident.
Inside the vehicle, investigators located a rifle, a shotgun, and a loaded sawed-off shotgun.
The driver of the stolen vehicle, 31-year-old Joshua Schmaltz from Medicine Hat, was wanted on numerous charges, including forcible confinement, assault and escaping lawful custody. The passenger of the stolen vehicle, 39-year-old Lori Malinsky from Taber, was also wanted for several offences including theft, possession of stolen property and flight from police.
The officer involved in the first collision sustained minor injuries, was treated at hospital and released. No other officers or the suspects were injured.
As required by the Alberta Police Act, the appropriate provincial authorities were notified of the officer-involved shooting. That incident is being investigated separately from the pursuit by the RCMP Serious Crimes Branch.
"The RCMP officers involved in the pursuit and subsequent arrest of the suspects put themselves in harm's way in order to protect the public. This is an example of some of the great work and sacrifices the men and women of the RCMP make every day in order to keep the people of the Province of Alberta safe," says Superintendent Garrett Woolsey, assistant district officer for southern Alberta RCMP. "I'd also like to thank the Calgary, Lethbridge and Taber Police Services for the assistance in bringing this to a safe and successful resolution."