Taber Times honoured at AWNAs with several awards
Posted on June 14, 2017 by Taber Times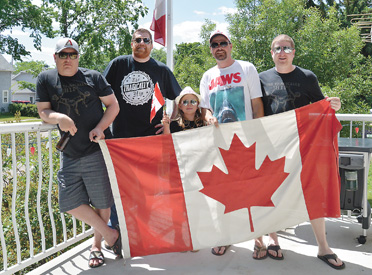 CANADIAN SPIRIT: Taberites Barkley Busch, Greg Price, Shaydance Wilms, Jason Wilms and Trevor Busch pose with their Tragically Hip gear in 2016. TIMES FILE PHOTO
The Taber Times and several sister publications made their presence felt at the annual Alberta Weekly Newspaper Association (AWNA) Awards earlier this month in Calgary.
Aided by top spot in both Best Front Page and Best Sports Page to go with second in Best Editorial Page, the Taber Times earned the best overall score (896 out of 1000) in Class B newspapers for the 2016 Better Newspaper Competition in General Excellence.
The Times received strong scores in the numerous variables that encompass a newspaper like community news (145/150), advertising content (88/100), classified advertising (48/50), front page (136/150) editorial and column page (95/100) and sports (47/50).
"The award is the very definition of a team effort in the whole Taber Times office with excellent staff with how well you see us score across various criteria. That also includes the residents of the Town of Taber and Municipal District of Taber as well in being engaged readers and participants in all the news and sports tips we've received over the years to follow up on," said Val Wiebe, publisher of the Taber Times and Vauxhall Advance. "The depth of our news, sports and feature stories are aided by a readership that cares very much about their community. This award goes far past the walls of the Taber Times where every resident should be proud, including our advertisers, who support local, who believe in this newspaper as much as we do which is recognized both provincially and nationally."
Delving deeper into the numbers, the Taber Times proved it more than belonged with any weekly newspaper in the province from circulation of under 1100 (Class A), right up to 12,500 and over (Class F). The Taber Times finished with the highest score of any weekly newspaper —regardless of circulation category—of the approximately 60 newspapers who made entries.
"No newspaper is perfect, we all have our flaws and mistakes, but I've long said I'd put up our weekly newspaper to any other in the province in the depths it covers its community the way that we do. With how competitive our circulation category was, the paper that finished in third place would have finished first overall as well across all circulation categories with its overall point score," said Greg Price, editor of the Taber Times. "The judging process is subjective with different judges from across British Columbia, Saskatchewan and Nova Scotia, but nevertheless, we strive to deliver a quality product week in and week out with hours spent both on and off the clock."
Being able to see the process first hand this year in Calgary, Price got a glimpse into the state of the weekly newspaper industry in the province.
"There are so many great newspapers out there the whole length of the province with sharp presentation, eye-catching photographs and ads and in-depth reporting and features," said Price. "Community newspapers across the province are doing an excellent job as a vital service in covering their community on the issues of the day both big and small in smaller centres that you won't find on the Internet. It makes for a better informed community as a whole that we should all be striving for in caring about our communities."
Another feather in the cap for the Times was in the individual Awards of Excellence where editor Greg Price earned top spot for the Gordon Scott Memorial Award for Best Feature Column by a Local Writer for his Aug. 24, 2016 entry, 'Saturday's Concert More Than Being Hip.' Judges for the individual awards came from British Columbia to as far east as Quebec.
The column received a perfect 60/60 score with quality and clarity of writing, impact on readers and interest to community. It marks the third straight year Taber Times columnists have finished in the top three in the category which included Price's third-place column in 2015 of 'Defending the Times — Pulp Fiction Style' and J.W. Schnarr's second-place finish in 2014 for his column, 'Why We Absolutely Do Not Need a Law.'
The column highlighted a house party Price attended where The Tragically Hip's last concert was projected on a wall like a movie that turned into a phenomena across the nation.
Held at the Rogers K-Rock Centre in the band's hometown of Kingston back in August, the concert was attended by Canadian prime minister Justin Trudeau. CBC's broadcast and live streaming of the concert which was uninterrupted by advertisements, was watched by roughly one third of the Canadian population, with glowing comments on social media across Canada and the United States. Tragically Hip lead singer Gord Downie had been diagnosed with terminal brain cancer back in May of 2016, but bravely announced the band would tour one last time in the summer as a farewell tour to its fans.
"Maybe the judges were big Hip fans, who knows," said Price with a laugh. "All I know is how I was swept into the three-hour moment and I'm not even the biggest fan of the band. Seeing a man bravely come face to face with his own mortality, coupled with seeing how much their music meant to countless millions. While some diva musicians cancel their shows for having the sniffles, here was Downie battling brain cancer and doing not only one encore, but three, and three-song encores to boot. Downie was not feeling sorry for himself dying, but embracing living and living in the moment, being forever grateful to his fans and uniting Canada for one brief moment."
Other sister papers got into the top placings as well with the Vauxhall Advance earning Best Front Page and Best Overall score for Class A, circulation under 1,100. Sunny South News earned second place for Best Ag Supplement with the Taber Times finishing in third. Westwind Weekly News earned a third-place finish for the Sports Writing Award with J.W. Schnarr's piece of 'Bulldog Bow Out.'
Westwind Weekly also placed in the photography awards with Tijana Martin getting second place for her human interest photo of 'Legion Honours Fallen Members' along with another second place finish for feature for her photograph of 'Symposium Preserves Blackfoot Language, Culture.'
"It was absolutely breath taking some of the photographs I viewed with unique angles and different perspectives that evoked emotion. You easily could have seen some of these pictures from weekly newspaper reporters find their way into Sports Illustrated or Time Magazine," said Price.