MP Shields weighs in on Scheer selection for Conservatives
Posted on June 7, 2017 by Taber Times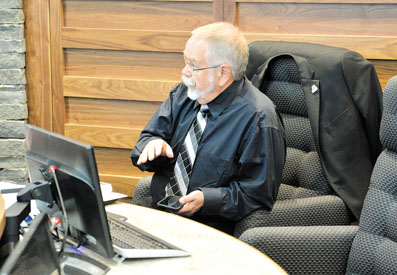 TIMES FILE PHOTO
By Trevor Busch
Taber Times
tbusch@tabertimes.com
With the recent ascension of Andrew Scheer to the leadership of the Conservative Party of Canada, Bow River MP Martin Shields was positive about the implications for the official Opposition moving forward.
"Andrew Scheer has a tremendous amount of experience in different roles in the House. We're looking forward to moving on. He's a guy that was born in Ontario, represents a Saskatchewan riding, a bilingual guy? Let's go for it," said Shields.
On May 27, Scheer secured the leadership of the CPC on the 13th and final ballot of the leadership election, taking in 50.95 per cent of the membership vote and defeating more than a dozen candidates for the party's top job.
"Andrew Scheer is a great guy — we had lots of great guys running in this campaign, and that's super," said Shields. "Some people suggested we had too many horses in the race — it was like the Kentucky Derby with at one time 14, 15 people in it. It came down to the vote — we had a phenomenal number of people who were able to vote in this, almost 260,000, and a lot of people did vote — so great turnout from that point of view. I'm glad people bought memberships, and I'm glad people got involved."
Considered a 'Blue Tory' — or small 'c' conservative — Scheer advocated a more centrist vision than some of his more socially-conservative colleagues, running for the leadership under the slogan, "Real Conservative. Real leader." Scheer has vowed to scrap carbon taxes and target crime, and is considered by many to be a pro-life supporter with regard to abortion laws.
Scheer has represented the riding of Regina-Qu'Appelle since 2004, and was elected as the youngest Speaker of the House — age 32 — in Canadian Parliamentary history, a position he served in from 2011 to 2015.
Shields, who chose to back Erin O'Toole going into the leadership vote, views Scheer as a family-oriented individual from a younger generation of Canadians.
"Andrew's a very young guy, in his 30s. I think we're going to see a guy — he's got five children and family, he's a family-oriented guy, he's a young Canadian — so I think we're going to see lots of good things in support of families, he's of the younger generation of Canadians, and I think we'll see values that reflect that. He's going to represent what I think is an example of a middle class family in the sense of the size, and reflective of the job he's in. I think we have someone who will represent that for us."
Scheer has also advocated for tax cuts for families, supports free speech in academic environments, and is opposed to the Liberal's plans to legalize marijuana and medically-assisted suicide. In the past, he has also voiced strong opposition to the legalization of same-sex marriage.
Few pundits believed the leadership vote would reach a 13th ballot, and Shields admits he was surprised by the vote and its outcome.
"Obviously people watching, and all the pundits out there that had made a prediction and assumed on the second or third ballot it would be all over — I think all the pundits and a lot of us watching were surprised that it went right to the 13th. I thought it would go longer than the second or third ballot, because of the preferential ballot it does tend to go farther, and it got to be very close going right down to the last one. Which probably surprised most of us."
Scheer has the ability to appeal broadly to progressives as well as more radical conservatives, asserts Shields, as a push for party unity has arisen in the wake of the vote.
"One of the things he had the opportunity to do in being Speaker of the House, he had the opportunity to observe governments on both sides, all parties, of things that they wanted to do, from a very unbiased position. I think that's going to give him some strengths going forward to appeal to a broad base within the party. And I think he can do that."