Dog walk draws record number of furry friends
Posted on May 31, 2017 by Taber Times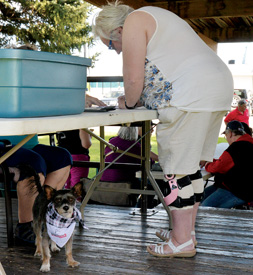 WALK THIS WAY: Kim Huculiak signs up for the Pet Valu Walk for Dog Guides as her dog Cupid waits patiently to enjoy a brisk walk with some four-legged friends. TIMES PHOTO BY GREG PRICE
By Greg Price
Taber Times
gprice@tabertimes.com
The annual Pet Valu Walk for Dog Guides has raised millions of dollars over the years in the nation-wide event. The 16th annual walk in Taber at Confederation Park last Tuesday proved to be very successful.
While figures were still trickling in last week, estimations are at over $13,000 being raised.
"As far as participants went, we had 35 walkers which I believe is the highest we ever had," said Dean Arnold, chairperson for the walk which was organized by the Taber Lion's Club, with the aid of a handful of local and national businesses. "Having the major sponsor Pet Valu located right here in town now certainly didn't hurt."
The money will go to help fund the Lions Foundation of Canada Guide Dog Training School in Oakville Ontario.
"This walk is our primary source of fundraising for it," said Arnold with the local Lions Club throwing in an extra $20 per local participant to help boost the numbers. "There has been a lot of media coverage of it the last couple of years which has really brought it to the forefront."
So much so that Arnold estimates that last Tuesday's dog walk raised the most ever by the Taber chapter. When one thinks of guide dogs, they think of seeing-eye dogs for the blind. But the animals that are trained benefit a whole bunch of different people with special needs.
"The program with specialty dogs also has implications for people who are deaf, people in wheelchairs and people with autism or chronic depression. It helps a lot of people with different physical conditions and it has been a rousing success," said Arnold.
That success doesn't come cheap, as each special-needs dog costs $25,000 to train properly. Going in 2017, over $14 million has been raised since 1985.
"Each person who gets a dog, it's absolutely no cost to them (upon receipt). Of course, after they get their dog there will be expenses," said Arnold. "We raised around $13,000, but the southern Alberta walk which we are part of with Bill Brown and the Lethbridge Walk, together we raise around $80,000. His big goal is to get to that $100,000."
Bill Brown has worked with the Canadian National Institute for the Blind for the past 39 years, and lost most of his sight to a hereditary disease by the time he was finished high school and has used many service dogs and knows of their importance. He travels around southern Alberta to these events to show support and to help out where they can.
"The Taber walk, the community has really rallied around this one. When I first started around five years ago, I think we raised $2,000," said Arnold. "I'm so proud of our Lions members. There were a lot of people volunteering where each person had a job to do, and it went really well."
For more information on the Pet Valu Walk for Dog Guides, you can log onto http://www.walkfordogguides.com.