Cadets start of impressive military career
Posted on May 17, 2017 by Taber Times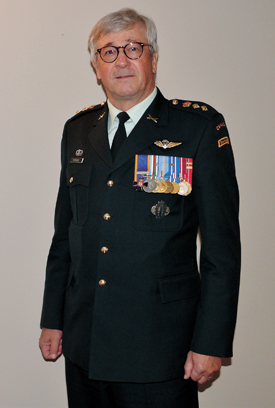 TIMES PHOTO BY GREG PRICE
By Greg Price
Taber Times
gprice@tabertimes.com
There were many special guests at the recent 75th birthday celebration of the 225 Royal Canadian Air Cadet Squadron in Taber.
There was the Honourable Lois Mitchell, Lieutenant Governor of Alberta, commander of the Royal Canadian Navy Vice Admiral Ron Lloyd, Lieutenant Colonel Dallas West, and a host of local politicians including MP Martin Shields, MLA Grant Hunter and several members of town council.
Another guest was Brigadier General Raymond Romses, the colonel commandant for the Royal Canadian Air Cadets.
As part of the reviewing party of the cadet squadrons that were paraded to the public at the Taber Arena and around Confederation Park, it flooded back a bunch of proud memories to Romses of his time in cadets as a youth.
Serving in the Canadian military for 37 years, Romses grew up in southern Alberta, going to the University of Lethbridge.
"Being in the cadets had a big impact on me and I am very hopefully for these cadets that it's having a big impact on them in their development as individuals," said Romses. "The parade I saw, I am very impressed with the fact the (225) squadron has taken the opportunity to celebrate 75 years of history. That's a long time a squadron has been in Taber. Not only is that having an impact on the youth of Taber, but also an impact on the community."
"There are many volunteers stepping forward to help run the squadron. Without them, that squadron wouldn't exist in Taber. They are volunteers, even though they are wearing uniforms, they are coming from Taber and area and they guide and help develop these young men and women."
Cadets taught Romses leadership, discipline, fitness and teamwork.
"It promotes the fact that if you want to achieve anything in life, you have to work as part of a team. You can't just be an individual and think you can do everything yourself," said Romses.
"It doesn't matter what career you move into, the things you learn from cadets can help you succeed in any pursuit you have. It certainly led me onto a career path that I certainly didn't expect. It doesn't matter if you go on to become a plumber, an electrician, doctor, lawyer or the military, these are things that will help you succeed in life."
For BGen Romses, his success was in the First Battalion Princess Patricia's Canadian Light Infantry (1989-91), Canada's Special Forces unit – Joint Task Force Two (1992-94), Canadian Forces Base Calgary (1994-96), Commander Land Force Atlantic Area (2003-05), and Commander Canadian Defence Liaison Staff (London, England) (2005-08).
Romses' international experience included two United Nations Cyprus tours (1978 and 1991), a posting with the 3rd Battalion British Parachute Regiment (1981-82), service as CO 1PPCLI with both the Allied Command Europe (ACE) Mobile Force and NATO Composite Force, completed a NATO Stabilization Force (SFOR) tour as Canadian Contingent Commander in Bosnia (1998), was Chief of Staff of the Multinational Stand-by High Readiness Brigade for United Nations operations (SHIRBRIG) (1999-2001) in Denmark, completed a United Nations tour in Ethiopia and Eritrea as the Force Chief of Staff from November 2000 to May 2001 and as Commander CDLS (London), he was also accredited as Canada's Defence Attaché to the United Kingdom and Republic of Ireland.
In this latter capacity, he was responsible for managing Canada's defence relationship with those two countries.
"I really loved serving in the military and it gave me a better appreciation of Canada as a whole, living across Canada during my 37 years and in Europe," said Romses. "You recognize that each part of this country is quite different and they have unique concerns that have to be taken into consideration."
For all the concerns Canada may have, it is still seen as one of the top countries in the world to live in according to Romses.
"There are many, many people trying to get into this country. My last posting was as the commander of the Canadian defence liaison staff working out of London, England and I can tell you, each morning when you went to that thogh commission, there was a line up of people trying to get into the immigration office to try and immigrate into Canada," said Romses. "We must be doing something right and favourable. Certainly as Canadian service people, when you go to other countries, we are looked upon very well and respected."
And for Romses, it all started in his service as an army cadet in 2296 RCA RC(Army)CC in Lethbridge in 1967. On August 15, 2013, BGen Romses was appointed Colonel Commandant of the Royal Canadian Army Cadets.