Air cadet squadron shaping youth for 75 years
Posted on May 10, 2017 by Taber Times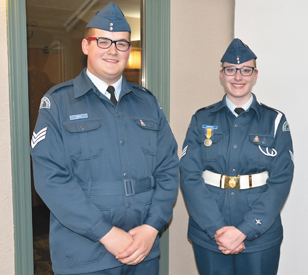 PRESTIGE: Sgt. Logan Petty and Sgt. Natasha Kuizenga were part of the festivities of the 75th anniversary of the 225 Royal Canadian Air Cadet Squadron — Taber Comet. TIMES PHOTO BY GREG PRICE
By Greg Price
Taber Times
gprice@tabertimes.com
It was the 75th birthday bash of the 225 Royal Canadian Air Cadet Squadron this past weekend.
That is a lot of years. Half the years Canada has been a nation as the 225 Royal Canadian Air Cadet Squadron is one of the longest serving youth organization's in the town's history.
A couple of the cadet's sat down with the Taber Times to talk about how the cadet program has helped shaped their young lives. Sgt. Natasha Kuizenga, flight commander of 225 has been a member of the local cadets since November 2014. For Sgt. Logan Petty, second in command, he is in his fourth year with the program.
"I had a friend who was in the 11th squadron in Lethbridge and I went to their Remembrance Day program there. It blew my mind and I knew I wanted to be part of something so proud and honourable," said Kuizenga.
Petty's influence started with his father in Lieutenant Jamie Petty who is currently the commanding officer of the 225 Royal Canadian Air Cadet Squadron.
"It's such a tight-knit community where you can make new friends and try new things," said Petty.
Kuizenga is amazed at the things she has been able to do in her time in the program including getting to fly a plane.
"He showed us what to do and said 'you're in control now," said Kuizenga. "It was breath-taking."
Petty recalled the friendships the local cadet squadron has made across the border with a Hart Ceremony with the United States, where there are four places in the USA the ceremonies are done.
The air cadet squadron does a lot of civilian tours including Head Smashed-In Buffalo Jump along with a visit to Canadian Forces Base Suffield which is the largest military training area in Canada.
Along with all the bells and whistles the 225 Royal Canadian Air Cadet Squadron has given for the adventures in their personal lives, it is also the structure the organization has given in helping shape the people of tomorrow today.
"I have found it has given me a lot of leadership skills. I have developed a lot mentally. I am more outgoing than I used to be," said Kuizenga.
Both Petty and Kuizenga have seen the changes within themselves and new cadets coming in where changes are noticeable fairly soon.
"We learn to teach classes, so they learn to be more social in the long run," said Petty.
This weekend, the squadron is going on a field training exercise on survival. Kuizenga will be teaching lower level survivor psychology. Knot tying, making shelters and fires, and medical aid are just a few of the life skills the squadron learns.
"You learn how to keep yourself sane and keep yourself motivated to survive while you wait for rescue," said Petty.
There are currently 17 members of the 225 Royal Canadian Air Cadet Squadron in Taber which caters to youth between 12 and 18 years old, in which Kuizenga can't say enough good things.
"It brings out leadership, it helps kids speak out and gives them a voice. It gives something to do for youth where you make new friends," said Kuizenga. "There are so many valuable life skills you get from this."
"It brings you out of your comfort zone and it improves us as people," added Petty.
Building leaders of tomorrow in both military and civilian industry, the military is an avenue that Kuizenga is currently exploring.
"I went up to Calgary and actually took my test and I qualified for boatswain in the Navy. I'm still deciding if that's the way I want to go, but it is definitely something I'm interested in," said Kuizenga, with Petty leaning towards some sort of teaching capacity either in the military or as a civilian.