MP Shields backs O'Toole
Posted on May 3, 2017 by Taber Times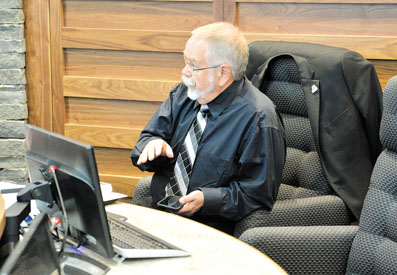 TIMES FILE PHOTO
By Trevor Busch
Taber Times
tbusch@tabertimes.com
As the federal Conservative leadership race winds down to a conclusion on May 27, Bow River MP Martin Shields has officially endorsed candidate Erin O'Toole.
Speaking during a roundtable discussion inside Municipal District of Taber council chambers last week, Shields outlined the choices that were before him and what factored into his decision.
"I looked at it and said okay, I think we need someone from Ontario, that has a strong base there, because I think that's where we're going to have to go, and there's two. The one I chose, he was a captain in the air force, he has a law degree from Dalhousie in Halifax, he's got a base in the Maritimes, and he became a lawyer and worked in the banking industry in Toronto and lives in rural Ontario. That's Erin O'Toole. When it came down to it, I talked to Erin a lot, and Erin approched me a lot, and that's where I went."
O'Toole represents the riding of Durham, and served as Minister of Veterans Affairs in 2015. O'Toole has targeted tax credits for youth underemployment and student debt, and has expressed a desire to restructure the temporary foreign workers program. So far, 30 MPs have endorsed O'Toole.
With less than a month before the vote, Shields was expecting to see more candidates having dropped out of the race by early May. Currently 13 candidates are still seeking the top job following the announcement that high-profile candidate Kevin O'Leary had dropped out of the race.
"It's a preferential ballot — which I hate — but there's only places to put 10 names on it, because they thought they'd have less than 10. You can't vote for more than 10, which would be stupid anyway in my mind."
Shields noted one of the candidates, Deepak Obhrai, actually resides in the Bow River riding although he represents the riding of Calgary – Forest Lawn.
"One of the leadership guys is in this riding, he lives here in Chestermere — that's Deepak Obhrai."
M.D. Coun. Dwight Tolten agreed with Shields when it was suggested that a successful party leadership candidate for prime minister would most likely be an individual from outside of Calgary, considering our previous prime minister resided there.
"It's important that we elect somebody that can win the election. Deepak might be the best guy in the world, but you're right about the Calgary thing. We gotta to get somebody that's gonna win."
Shields hinted that some quality individuals in the party might have considered a bid for the leadership if the circumstances of the race had been different.
"One of the problems we had in this campaign was I believe there's some sharper people out there who didn't enter it because they believe that Trudeau can't be defeated in the next election. I think that has slightly changed because of some of the things that he's done. So I don't think we have some of the strongest ones out there who could have been in it."
Current leadership candidates include Chris Alexander, Maxime Bernier, Steven Blaney, Michael Chong, Kellie Leitch, Pierre Lemieux, Deepak Obhrai, Erin O'Toole, Rick Peterson, Lisa Raitt, Andrew Saxton, Andrew Scheer, and Brad Trost.
Some 259,010 party members are eligible to vote.