Police commission approves long-distance, non-lethal option
Posted on April 26, 2017 by Taber Times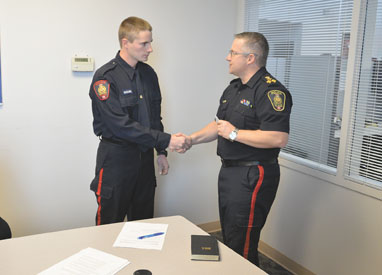 TIMES FILE PHOTO
By Trevor Busch
Taber Times
tbusch@tabertimes.com
Taber Municipal Police Commission has signed off on the deployment of a less than lethal munition for use by the Taber Police Service in situations where the limited range of current non-lethal options makes them less feasible.
At their April 13 regular meeting, the Taber Municipal Police Commission approved the deployment of a Less Lethal Munitions Sock Program for use within the Taber Police Service.
"As the police chief, it is important to me that the tools that we use in our application of force have been researched, their deployment is evidence based, and are necessary for the protection of the public and our police officers," said TPS chief Graham Abela, at the commission's April 13 regular meeting. "The appropriate application of force can only be achieved by expanding the tools we have available."
Lethbridge Regional Police equip their patrol members with a less than lethal munition, known as the Combined Tactical Systems 12 gauge Super Sock Round. The Super Sock Round has an effective range of 60 feet.
"The Lethbridge police service have been very happy with the Super Sock Round and have experienced successful deployments," said Sr. Cst. Tim Johnson in his written report to the commission at their April 13 regular meeting. "They have also offered to provide training to our members until we would be able to be certified as instructors."
Members of the Taber Police Service currently use pepper spray, batons, and Tasers as less than lethal equipment options to assist them when required to use force. Currently, Taber police have no ability to exercise a force option at a distance greater than 15 feet without resorting to firearms.
"This could be a subject who has a firearm or other weapon, but has not yet used it on themselves or someone else," continued Johnson in his report. "An officer in this situation will not be able to use deadly force if the threat is not imminent, but they also should not be within 15 feet of the subject to use any of their available use of force equipment options."
According to Johnson's report, less than lethal munitions can be used to protect the public or officers from harm, including suspects from self-inflicted injury, and can also be used to de-escalate a dangerous or potentially deadly situation, or control, detain or arrest a subject.
"By not equipping our members with a less than lethal force option that has an effective range greater than 15 feet, we may be forcing our members into situations that pose a tremendous risk of death or serious injury to themselves and to the public."
The shotguns used to deploy the rounds would be stored in a locked and secure harness manufactured for police vehicles, located in the forward area of the vehicle.
The requested equipment includes four Mossberg 500 SPX shotguns ($2849.81 plus shipping and GST), two Aimpoint T2 sights ($1,559.98 plus shipping and GST), sight mounts ($399.96 plus shipping and GST), shotgun slings ($170.81 plus shipping and GST), and the sock rounds ($10 each).
"The Mossberg 500 SPX shotgun appears to be able to meet our needs at a lower cost than other options," said Johnson. "It has an adjustable buttstock and pistol grip similar to our patrol rifles, which will assist our members with training and use. The Mossberg 500 is a common brand and model, so the availability of parts and repair services should not be an issue."
When using the shotguns with the Super Sock Rounds, Johnson explained officers would be directed to target the lower arms, legs and abdomen.
"I believe that each member should be trained and qualified to deploy the Super Sock Round in order to make it available for use at all times. Initially members will need to receive a full day of training to be qualified and will then have to pass a yearly qualification course of fire."
According to the Request for Decision (RFD), "police legitimacy is grounded in the public's belief that the police will not use excessive force on its citizens and are accountable when force is applied."
The current cost to implement the program will be mainly absorbed through funds received in 2016 due to the return of defective sighting systems for police carbines, and all costs are situated within the current budget allocation.
While traditionally an operational matter not necessarily subject to commission scrutiny, Abela was adamant that the public understand the implications of use of force options, and that they have a say in their deployment by the Taber Police Service.
"There are some police agencies, specifically in the United States, that are militarizing their police. That is absolutely the opposite to what I want to do in our police organization. So it's important to me that the community has a say in the deployment of what force options this police service may choose to get."
It was noted during discussion by Abela that a policy would be developed prior to the shotguns and Super Sock Rounds being placed into service with TPS officers.
"Police departments across North America, and most recently in Alberta, have deployed less lethal munitions with great success. In my view, it is time to deploy less lethal munitions within the Taber Police Service. Policy and training will be conducted and implemented prior to the tools being placed into service."