MP Shields questions cut of tax deferral program for ag producers
Posted on April 19, 2017 by Taber Times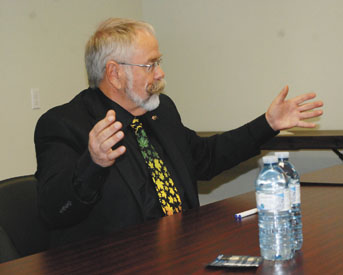 TIMES FILE PHOTO
By Trevor Busch
Taber Times
tbusch@tabertimes.com
Bow River MP Martin Shields probed the Trudeau Liberals earlier this month in an effort to clarify tax deferral uncertainties for agricultural producers in the 2017 budget.
Rising in the House during Question Period on April 7, Shields asked why the Liberals had decided to eliminate a tax deferral program that had shown great benefit to producers in the past.
"Mr. Speaker, in budget 2017, the Liberals plan to end tax deferral for grain farmers. Eighty-two per cent of grain farmers depend on this tax deferral to help them mitigate uncertainties in grain farming, which can change greatly from year to year," said Shields.
"This tax deferral is an important tool that farmers use to help them manage their operations, including many in Bow River. Why is the out-of-touch finance minister scrapping this important tool for all grain farmers?"
Responding on behalf of the government, Ginette Petitpas Taylor, Parliamentary Secretary to the Minister of Finance, indicated the Liberals are launching consultations with producers to determine the best tax plan moving forward.
"Mr. Speaker, our government strongly supports the Canadian grain industry, which is a key driver of exports, jobs, and economic growth. With changes in recent years to grain marketing, the delivery of listed grains is now the responsibility of the private sector instead of the federal government," said Taylor. "Budget 2017 launches consultations with farmers and stakeholders on tax deferral. We want to hear from farmers before moving forward."