Solid waste initiative continuing expansion
Posted on April 12, 2017 by Taber Times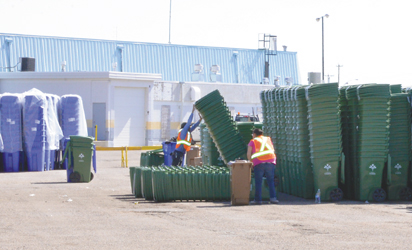 TIMES FILE PHOTO
By Trevor Busch
Taber Times
tbusch@tabertimes.com
Plans to expand the community's municipal solid waste initiative from residential areas to the downtown, industrial area or multi-family dwellings such as apartments are slowly taking shape.
"We sent out a questionnaire to all of our commercial utility customers, which includes multi-family dwellings over five units as well as industrial businesses," said public works director Gary Scherer. "The overall response from them was for more recycling options, and so the town is currently distributing 56 large commercial recycling bins to locations that expressed interest, which in addition to the 107 bins already in use throughout the town brings the total to 163 mixed recycling bins, or roughly 350 cubic yards of recycling storage which is collected 1-3 times a week, depending on need."
The town's three-cart municipal solid waste initiative commenced on May 1, 2016 for residential areas throughout the community. At the time, future considerations included discussion of implementation for the industrial area, consideration of an optimal way to collect waste from higher-density dwellings, such as apartments, and determining the need for a second garbage truck.
"We are also considering how to accommodate those businesses that were interested in organics (compost) collection," continued Scherer. "Some multi-family dwellings will already be receiving these options as soon as this spring-summer season. The major challenge we are facing is deciding on a location in the alley or on the business property with enough access for our collection vehicles to service them."
While applauding the overall success of the cart-based collections system since its implementation in 2016, Scherer noted some of the problems that have arisen, for instance people unnecessarily bagging compostables.
"We have had amazing cooperation from residents with the three-cart system, and have had many positive remarks about the ease and convenience of the system. Proper use of the recycling carts has been excellent with some of our residents even requiring a second cart. The organics (compost) collection weights have been some of the best in the province, and the only issue we are experiencing is that some residents are still using plastic bags (including bio-degradable) to dispose of their organics instead of the required BPI certified compostable bags, paper bags or no bag at all. These plastics contaminate the compost, so we need residents to improve on that."
The system has largely been working swimmingly, according to Scherer, who noted residents appear to be taking ownership of the collections initiative.
"Our garbage tonnage weights are down 72 per cent in the first eight months of the system, lessening our environmental impact and greenhouse emissions and allowing to maintain our garbage and recycling fees with no increases planned for the future. We are pleased to note that some of our residents are only needing to put their brown cart out every other week and some even once a month. The additional garbage truck has been accepted into the 2018 capital budget, so that we will be able to collect the carts much quicker; improving service to our residents and ensuring service is not interrupted by mechanical failures."
Scherer finished by reminding residents to return their carts to their storage locations at the end of each collection cycle to prevent potential damage due to wind, vandalism or other factors.
"We would like to encourage everyone to return all of their carts back to their own property after collection is complete, safeguarding the carts against theft or vandalism. When carts are left in the alleyways they can be knocked or blown over; spilling debris and creating an unsightly mess. Also by keeping the alleys clear this allows the public works department to properly maintain our alleys. The new collection calendars with lots of new recycling and disposal information for residents will be mailed out shortly. If you do not accept flyers in your mail or do not receive a calendar by May 1 please stop by the Administration Building or public works shop to pick one up."