Penmanship leads to international friendship
Posted on April 12, 2017 by Taber Times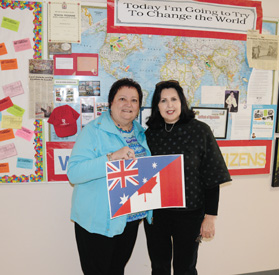 INTERNATIONAL RELATIONS: After 40-plus years, former pen pals and current school principals were reunited thanks to the help of a 10-minute Google search. TIMES PHOTO BY GREG PRICE
By Greg Price
Taber Times
gprice@tabertimes.com
Separated by thousands upon thousands of kilometres, the power of the pen connected two strangers who became friends, who now, more than four decades later, have been reunited with the power of computers.
Dr. Hamman School principal Darlene Peckford grew up a farm girl in Lomond during a time where the connectedness of the world was not as prevalent as today.
Yearning to discover a little bit of the world outside her borders as an young teen, Peckford who was known as Darlene Marks at the time, signed up for a pen pal program to Australia.
"For a little farm girl living in a very rural setting surrounded by a community of relatives, the big world seemed very far away and totally disconnected from me and my life. The letters I received from my pen pal opened up a whole new world for me," said Peckford of her correspondence with a girl known as Julie Parry at the time. "Lomond is a very secluded place where most of the people are related and so you don't think outside of that. I began to understand that there was a very big world out there with many new things to learn and experience."
Now going by Julie Roberts, Julie recalled making her pen pal connection through a local newspaper in Perth, Australia, advertising the opportunity to make a connection with someone from another country in which Canada was suggested.
"I used to love looking at atlases and things across the world. I was always interested in other countries," said Roberts. "Fifty years ago, the world was much different, it was a completely different world. We didn't have the Internet, being a pen pal was an opportunity to correspond with someone on the complete other side of the world in another country."
Correspondence between the two was quite frequent for two years where the budding friendship netted numerous letters with pictures and little gifts from their respective countries. But alas, other interests took hold like they often do in teen years and the two lost touch.
"We probably started dating which you do at 15-16," said Peckford as the two shared a laugh talking about their reunion in Dr. Hamman School's library earlier this week. "Yeah, it was probably boys. We had no time for anything else," added Roberts with a giggle. "We can say that if you want a truthful answer."
But, while life got busy, the heart and connectedness remained the same as the two were always on the back of each other's minds with the friendship that formed over pen and paper.
Roberts visited Canada back in 1994 and wondered where Darlene Marks was, knowing she had lived in Lomond but was very far away at the time in the country, visiting places like Vancouver, Banff and Lake Louise.
"I've always remembered Darlene from the time we were a child and corresponding. When I came in 1994 I had that 'where are they now and what are they doing' which you get with people you've gone to school with as well," said Roberts.
Planning a trip to Canada again this year with her partner of 23 years in Ted Nastasi who is also a principal in Western Australia, she Goggled Darlene Marks which got a hit talking about the Lomond high school reunion. Next to that maiden name was Peckford which Julie assumed was her married name. Googling Darlene Peckford, Julie discovered just how connected she was to Darlene with how their lives panned out.
"I saw she was a principal in Taber and I was just blown away," said Roberts, who herself is a principal at Wattle Grove Primary School in Western Australia.
The two began e-mail correspondence back in February and discovered while times may have changed, their connection never did as the similarities between the two long-lost pen pals are uncanny.
Both coming from more rural secluded areas, both were teachers who are now principals, both have done distance education. Both stay away from caffeine with the way it affects their body and both have similar situations with how their parents are looked after in seniors care. The two are literally on the same page when it comes to their views on education delivery in their respective schools.
"The scheduling of the days is very similar. When we look at the curriculum, it is very similar as well," said Roberts. "when my teachers Googled the Web site (for Dr. Hamman), with the principal's message, they said 'my gosh, she sounds exactly like you.' We have very similar philosophies I would suggest on education. It is amazing that we have followed the same sort of career pathways to this point."
Pen pals have now been reborn through both elementary schools as Peckford and Roberts are initiating a program between the two schools with an emphasis on being global citizens.
"I said to Darlene, how about we establish a sister school relationship between our two schools to pass on the baton of having pen pals and pen friends. We've matched up several classes between Dr. Hamman School and Wattle Grove Primary School," said Roberts. "Now those children are corresponding as well."
While the students from both schools will be corresponding through computers, the two principals wanted to make sure the connection they made through pen to paper was not lost with the younger generation. The effort and care one takes in writing something down, the filing away with an envelope with the necessary postage. There is an art in the personalized care it takes.
"It's a different world where you communicate differently now, but the kids have never lost that excitement in receiving a letter. To have your own handwriting on a letter," said Peckford. "It connects and bonds people with that type of writing."
"Writing a letter is quite special. We all take for granted correspondence by e-mail or over the computer (Skype, Face Time etc.)," added Roberts. "To actually have a letter addressed to you, there's that feeling."
More than four decades have passed since Peckford and Roberts made those initial letters to each other where neither had met face to face until Monday morning at Dr. Hamman School, and yet the letters formed a kinship that had the two feeling like it was old friends catching up when the two finally met.
"I feel totally connected to her and she's a dear, dear friend to me," said Peckford. "That bond was created through writing."
Like two sisters being reunited, Peckford is thankful for the power of Google in rekindling their friendship from those earlier letters more than four decades ago.
"It is the power of Google in a really positive way. We hear so much of the negative with the Internet and with technology, Snapchat and e-mails," said Peckford. "You hear of the more negative things that happen with that with instant communication. But then you hear about amazing things like this where 46 years go by and then someone who is very special to you from your past finds you in 10 minutes."