James returning to his roots to tell musical stories
Posted on April 5, 2017 by Taber Times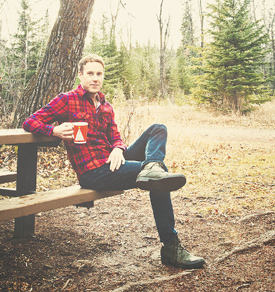 STORY TELLER: Tanner James is returning home this Easter to deliver his unique blend of folk music in another performance at the Taber Curling Club. TIMES PHOTO SUBMITTED
By Greg Price
Taber Times
gprice@tabertimes.co
Folk artist Tanner James will be making a return performance to the Taber Curling Club next Saturday.
"My parents live on a farm just outside of town, so I spend a fair bit of my downtime out there when I'm not on the road. I really like being home in Taber. It's nice getting to show people what I do," said James, adding he hopes to make his curling club gig an annual thing as he tours full time, having also performed at Cornfest in the past.
That full-time commitment includes James averaging about 150 shows a year in various venues across North America.
"My touring has taken me pretty much everywhere between Montreal and Victoria. I feel like I've played every city and town between. I try to tour to Northern B.C. every summer and I have been really pleased with that area of the world," said James. "I went all the way to Haida Gwaii (formerly Queen Charlotte Islands) last year. That's my favourite place in Canada. It feels like you are stepping on sacred ground. Stompin' Tom Connors said that was the only place in Canada he had never been."
James has evolved as a singer/songwriter, where the music bug first bit him in high school at St. Mary's in Taber with the in-your-face punk genre.
"Two guys took me to a small punk rock show in Lethbridge and I was just obsessed ever since. The bands we saw weren't great, but it was doable. You watched them and you thought, 'Hey, I could do that!' That's a really powerful message to empower someone with," said James. "I grew up loving scrappy punk rock, then I played in a quirky rock band for five years in Calgary and then I got old," he continued with a chuckle. "Now I love traditional folk and country music. I suppose that's a very common story."
Now James spins yarns about the people he meets in his many travels, a trait picked up from his gifted story-telling grandfather, along with his father and uncle which seemed like a natural segue to folk music, growing up in rural Canada.
"My music has meant lots of things to me over the years. That meaning changes with my stages of life. When I was young it was about discovering myself and being an outlet," said James. "Now it's about giving voices to people I meet who may not have a way to tell their stories. I get to meet people from all walks of life, all over Canada. I love that. I like sharing the Canadian identity."
James refers to his music as 'quirky', which reaches into the folk genre, but with a modern spin with a personality all its own. Firmly etched in roots music, James hopes to hold onto a style of music and song writing that seems to be rare in today's music scene among young adults.
"I play with a full backing band sometimes, but it's really costly. Most of the time I'm touring by myself or with one other guy. I think telling stories is an art lost on the young guys, so I'm proud to try to carry that tradition forward," said James. "I come from a long line of professional bullshitters, so I think storytelling is in my blood. I sure miss Stuart McLean though."
Described as gut-wrenchingly funny and heartbreakingly confessional by some music critics, James' accomplishments include a first-place win at the Calgary Folk Music Song Contest and a semifinalist in the UK Songwriting Competition.
James completed a musician-in-residence program at the prestigious Banff Centre in late 2015, where he wrote a new collection of songs and performed at a number of venues. Along with getting air play on CBC radio, Tanner James has shared the stage with the likes of artists Lindi Ortega, Said The Whale, The Elwins, John Wort Hannam, and Fred Penner. James will be performing songs from his album 'How To Ruin Your Life With Women', released in 2013, and the latest 'Painted Horses' to go along with some covers.
Tanner James performs at the Taber Curling Club on Saturday, April 15. Doors open at 7 p.m. with the performance at 8 p.m. Tickets are $15 and are available at the door or at http://www.tannerjamesmusic.com.