Air cadet squadron getting 75 birthday candles ready
Posted on March 29, 2017 by Taber Times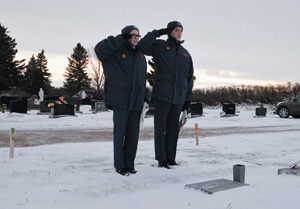 TIMES FILE PHOTO
By Greg Price
Taber Times
gprice@tabertimes.com
The 75th Anniversary celebration of the 225 Royal Canadian Air Cadet Squadron in Taber on May 6 will be seeing some rarities for small-town Alberta when you see who is on the guest list.
"Even in large cities, they don't get the opportunity that you are going to see here in town. This is of course an opportunity to network and promote our cadet program in southern Alberta, but this is a huge opportunity for our municipality," said Kevin O'Grady, chairman of the 225 Royal Canadian Air Cadet Squadron 75th Anniversary Society. "Both the town and the M.D. (of Taber) are getting excited about this. Most communities can't turn around and say they have a vice-admiral that was an alumni from their cadet corps. That has been a real blessing for us. And with him coming in, it's drawing in more."
O'Grady is referring to Vice-Admiral Ron Lloyd, commander of the Royal Canadian Navy, interim Vice Chief of Defence and former Taberite, who will be flying in from Europe the day before to attend the event. Also in attendance will be Lieutenant Governor of Alberta, the Honourable Lois Mitchell. Other dignitaries include retired Brigadier General Ray Romsey and Dallas West, a chief training officer and deputy commanding officer at Regional Cadet Support Unit (Northwest). Cadets are coming from Utah and Montana as well.
"I take my hat off to all these people who are willing to promote our cadet program and the town itself," said O'Grady, as local politicians will be invited as well from across southern Alberta.
One of the oldest organizations in Taber's history, the day will feature parades inside the Taber Arena which holds 1,200 people and around town that is free to the public showcasing the cadet program, along with a meet and greet in the afternoon at the Heritage Inn where Duke of Edinburgh awards will be presented to cadets. While the parades are free, organizers are encouraging monetary or non-perishable food item donations for the local food bank.
In the evening there will be a black-tie affair at the Taber Arena with guest speakers and presentations.
"The cadet program here in town is the first that is no cost to the cadet. Back in the 1970s they changed their policies and allowed girls to join," said O'Grady. "It's for youth between 12-18 that are allowed to join and go do a whole lot of different activities at no cost. You want to go play Golden Suns or youth basketball, you have to pay. Cadets, there is no costs for the kids. There is a support group that helps out with some of the costs for activities in a sponsoring committee. For 75 years, I don't think there has been another organization around here that does this for youth where any kid, it doesn't matter your ethnic or religious background, you can be rich or poor, you can join and have fun with a bunch of different activities and build character and leadership."
The 225 Royal Canadian Air Cadet Squadron was at 14 cadets as of November 2016, where numbers have had its ebbs and flows over the years. O'Grady added part of the problem with the awareness level of the program is that usually people only know about it around Remembrance Day Ceremonies. But, the buzz of the 75th anniversary celebrations have already drawn some inquiries into the program.
"With this event, we are really trying to promote the cadet program and at the same time promote our municipalities. Cadets are from Bow Island all the way to Coaldale and we have other cadets coming out from Lethbridge," said O'Grady. "We have the air cadets, but there are also the army cadets and the sea cadets. This will be a big first with this parade, where we will have all three genres of the cadets in there separately."
The committee for the 75th anniversary for the 225 Royal Canadian Air Cadet Squadron is still looking to sell tickets for the black-tie supper and sponsorship opportunities to have a break-even proposition in running the event.
"This isn't going to be one of those wear your dirty blue jeans and come events," said O'Grady of the dinner and program in the evening. "There will be celebrated military there."
Tickets for the gala dinner are $50 per seat or $400 for a table of eight and are available at ScotiaBank where the bank will match funds raised from 100 tickets ($5,000).
"They are being wonderful. We are highly recommending everyone goes there for their tickets," said O'Grady. "The money that we do raise is all going back to the community. We give it to the groups that are helping us run this event. We are not using this as a fundraiser, but rather as something to promote the cadet program."
For those looking to sponsorship opportunities, you can call Kevin at (780) 888-5556 or 403-223-8766 who will explain the different packages or Mark at 403-634-5605 or 403-223-4975.
"This is a once in a lifetime thing. You do not get to see this kind of stuff in your lifetime," said O'Grady.