Throne speech covers numerous issues
Posted on March 8, 2017 by Taber Times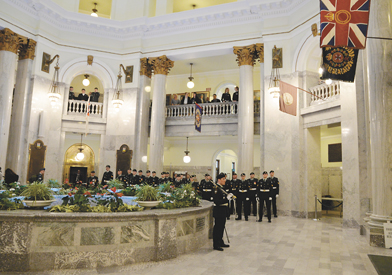 PASSING MUSTER: A Quarter Guard, formed from elements of the 1st Canadian Mechanized Brigade Group, awaits the arrival of Lieutenant Governor Lois Mitchell in the rotunda of the Legislature Building last week. TIMES PHOTO BY TREVOR BUSCH
By Trevor Busch
Taber Times
tbusch@tabertimes.com
Setting out the broad goals and direction of Premier Rachel Notley's NDP government in early 2017, last week's speech from the throne covered areas of focus that ranged from pipeline approvals to job creation.
Delivered in the house on March 2 by Lieutenant Governor Lois E. Mitchell, The Taber Times reporters Trevor Busch and Nikki Jamieson were in attendance at the legislature to cover the speech. A time-honoured legislative tradition that hearkens back to our ties to the British Empire, the speech from the throne outlines the goals of the present government and the initiatives it will undertake to accomplish those goals.
In her opening statements, Mitchell focused in on one of the key themes of the speech, the continuing depression in the energy sector that has impacted everyday Albertans and government revenues alike.
"The collapse in the world price for oil continues to affect the well-being of families and communities, reverberating at boardroom and kitchen tables throughout the province. For too long, Alberta tied spending to the price of oil, which resulted in volatile funding swings for core services. For instance, under former governments the rate of yearly spending growth increases was as high as 11 per cent. Your government stopped that practice."
Mitchell outlined the NDP is working to bring spending under control through a series of initiatives.
"Through diligent action and targeted reductions, we are bringing the rate of spending growth down, thoughtfully and prudently. Your government has cut and amalgamated government agencies, frozen salaries for cabinet ministers, MLAs, political staff and management in the civil service, and streamlined spending across government. As we pursue further spending reductions, your government will hold firm to the belief that spending reductions should never happen at the expense of our schools, hospitals and those very things Albertans rely on to weather the downturn and provide for their families."
Mitchell also talked about diversifying Alberta's energy markets by seeking intervener status on legal challenges, building more highways, schools, affordable housing and health facilities across the province, moving forward with the first renewable energy auction and expanding supports to help entrepreneurs. Pipeline approvals that became a reality in 2016 should start to bring an economic boost to Alberta in 2017.
"Making life better starts with coming to terms with an economic reality that past governments failed to address. Alberta is too dependent on selling its energy products to one customer at one discounted price. As a result, we have been at the mercy of global economic forces over which we have no control. This must change. Under this government, it is changing. In last year's speech from the throne, your government committed to erasing doubts about Alberta's environmental reputation as part of an effective economic diversification strategy that would break Alberta's land lock and open up new markets for our oil. The plan is working. Last November, the Government of Canada approved the Trans Mountain Pipeline and Line 3, citing Alberta's Climate Leadership Plan as key to its decision."
While approvals are an important first step, Mitchell noted that immediate dividends may not be forthcoming until shovels are in the ground.
"Let there be no doubt, the approval of these two pipelines is a historic step forward. Though we won't celebrate until the first drop of oil leaves Canadian shores from a new pipeline, we recognize the spirit of cooperation and hard work by those who have brought us to this point. Our energy industry, Indigenous communities, environmentalists, and ordinary Albertans came together in common purpose, showing, once and for all, that a strong economy and a clean environment can – and must – go hand in hand. In the weeks and months ahead, your government will remain focused on bringing this pipeline to completion. Trans Mountain is not the end of our market diversification efforts. This year we will also continue to work thoughtfully and respectfully with the federal government, Indigenous communities and elected officials across Canada on the Energy East pipeline proposal."
Other target areas outlined included reducing school fees, capping electricity rates, reducing emissions with new energy-efficiency programs, and instituting a new Consumer Bill of Rights.
On the agriculture front, Mitchell highlighted key investments and initiatives that are coming on stream in 2017.
"Alberta's agricultural producers are the world's best, and so are the products made by them. Building on investments your government made last year, such as capital to expand the Agrivalue Processing Business Incubator and Food Processing Development Centre in Leduc – an investment that doubled the size of that facility, making it the largest of its kind in Canada – this year will see further support to help Alberta's agrifood entrepreneurs."
Singled out for special recognition was the recent announcement of a major value-added agricultural investment in the Lethbridge area that is likely to pay off for Taber-area potato producers.
"Your government will also remain nimble and responsive to good ideas for bringing more business to Alberta, like we were with the City of Lethbridge to ensure the expansion of Cavendish Farms – the single largest private-sector investment in the history of Lethbridge – which will create good jobs and more opportunities for Alberta farmers," said Mitchell.
More new schools will be approved, and the province intends to partner with the Alberta Medical Association to help communities find and retain health care professionals. More long-term care and dementia spaces are to be built, and there will be new legislation focused on ensuring child death reviews receive more attention.
Also slated for improvement will be eliminating barriers to justice for victims of sexual assault and domestic violence.
Work will continue on enhancing the Municipal Government Act, which will have significant impacts at the local level throughout Alberta.
"Important work remains this session on the Modernized Municipal Government Act. This work will build on the strong, respectful relationships developed with municipal leaders. Those relationships have allowed us to bring in new measures that empower local governments, enabling them to provide their communities with better services and more jobs," said Mitchell.
A source of some controversy with off-highway vehicle enthusiasts since their announcement, efforts regarding the Castle parks plan were also highlighted by the Lieutenant Governor.
"This year, your government will continue to improve parks across our province and build on the historic protections we have brought into place, such as the recently announced protections for the Castle area. Consultations on the plan to protect the Castle area will continue this year, as will your government's commitment to create better opportunities for everyone to enjoy our parks. Investments will be made in new campgrounds, trails and roads, and we will support all types of recreation with real improvements to our parks – whether you are exploring on a motorized vehicle, horseback or lacing up hiking boots."
Mitchell also pledged the government will be addressing issues surrounding access to clean drinking water for First Nations communities, creating city charters, and expanding protection for whistleblowers and strengthening conflict of interest laws.