Pink Shirt movement co-founder speaks on stopping bullying
Posted on March 8, 2017 by Taber Times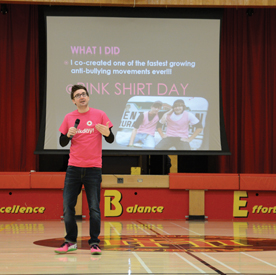 PINK PRIDE: Pink Shirt Day creator Travis Price speaks to students at W.R. Myers High School earlier this week. TIMES PHOTO BY NIKKI JAMIESON
By Nikki Jamieson
Taber Times
njamieson@tabertimes.com
To stop bullying, you don't need a special shirt; all you have to do is stand up for someone.
Speaking to a crowd of W.R. Myers and D.A. Ferguson students, Travis Price, co-founder of the Pink Shirt Day movement and Red Cross' official ambassador for the respect education program, had came to Myers on Monday to spread his anti-bullying message.
"I wish, as a kid, that we had an anti-bullying program in my school. We didn't. We had one presentation like this, and I remember it came from an RCMP officer. It just didn't do anything for me, it didn't educate us, it didn't help us at all," said Price.
"We didn't have the tools or the resource of the education that we have now."
Having been the victim of relentless bullying himself when he was younger, Price had coped through sports and music, and assumed he would always be that kid that everyone picked on.
However, when someone stood up to some bullies for him, he felt a ray of hope, his "bat-signal", and realized things didn't have to be that way.
"The reason I liked (Batman) so much, was because he has something no other superhero had; he had the bat-signal, which is a symbol of hope. When that kid is sitting in Gotham and is watching the news, and the Joker is up to something and the Riddler is doing something… that kid looks outside and sees the bat-signal, he goes, 'Hey, it's going to be OK, somebody is going to help us'. That's what I hold onto. Every bullied kid looks for hope, and the bat-signal was my symbol of hope, that's what I looked toward everyday."
When he was in Grade 12, he got his chance to repay that kindness for someone else. The school year had just started at Central Kings Rural High School in Cambridge, NS, and a Grade 9 student who was starting high school, had walked into the school, and was immediately picked on for wearing a pink shirt. This encounter resonated with Price, as it reminded him of himself when he was younger, getting picked on.
"Grade 9 student, brand new to our school, first day of high school, first day at our school, walks in the door with a group of his friends, nothing out of the ordinary. Walked in, group of friends, he's immediately picked on because he's wearing a pink shirt."
Price and friend David Shepard had viewed the encounter, and later learned that the bullying had got so bad for the kid, he had gone home before lunch.
Shepard and Price brainstormed how they could help this kid, eventually deciding to see just how many students they could get to wear pink to school the next day. They went out and brought pink accessories and 50 pink women's tank tops — the only pink shirts they could find. In a school of about 1,000 people, they hoped to get at least 25 people to wear pink.
Instead, about 850 students showed up in pink.
"I realized that as much as we were helping this kid, I was lifting a weight off my shoulders as well, as it was the first time I was standing up for myself, I was standing up for people like me, and it felt great," said Price. "That Grade 9 student came to school that day not wearing a pink shirt — we saved him one. He put it on, he stood next to us and kind of looked out at the school, and sees everyone wearing pink. And he looked at us and says, 'Thanks guys," and we were like, 'No worries man', high five, away he went."
"We weren't best friends then, and we aren't best friends now, but if you could just see him in that moment, he took a deep breath, and was like, 'This is home, things are going to be OK'."
One part of the day that was so amazing for them, was that when they asked everyone why they wore pink. No matter who they were, it was because they too had been bullied, and wanted to help the new kid.
"There was so many people in our school that were affected by bullying, that I had no idea. The captain of our cheerleading team, the captain of our hockey team, football team, chess team, debate club; so many people were affected by bullying, and said nothing. Now we can talk about it."
That first ever Pink Day started a conversation in their school, which quickly spread across the province, nation and then the world, about bullying.
Just last year, 6.5 million people participated in Pink Day in 38 different countries. Croatia recently announced a national Pink Day, and Ellen DeGeneres had even asked them to come on her show.
"We accidentally co-created the fastest growing, and now, actually, the largest anti-bullying movement in Pink Shirt Day, now known as Pink Day," said Price. "This is what a simple choice, decision, a simple act of kindness was able to create."
They didn't end up coming on Ellen, as she also wanted the Grade 9 kid there as well. He has chosen not to step forward, as he didn't want to be known as being some bullied kid. Price and Shepard have respected the decision and have chosen not to name him. Price also stressed the name currently listed on the Wikipedia page for the day is not the kid's name. Price continued to speak up about bullying, being able to speak in front of the United Nations on children's rights and how bullying was effecting their rights, and meeting people such as motivational speaker and mountain climber Spencer West, astronaut Dafydd 'Dave' Williams and singer/actress Selena Gomez — who shared their stories about bullying. For those who are curious, there are no bullies in space.
"It just changed my life in so many ways, it changed our lives in so many ways. It went from me being this bullied kid that felt like I didn't have a voice, to being able to be the voice that represents those kids around the world," said Price.
"This is the number-one issue affecting youth in Canada right now. We have to be the ones that fix it, we have to be the ones that make the decision that every day we'll make Pink Day happen. It's not about the shirt; it's never been about the shirt… It's because the people who are wearing the shirt can stop bullying."
Shepard has since retired from speaking out against bullying, and is now running his own and his family's farm. Price plans to continue to speak out against bullying, until he no longer is relatable to the students.
"You see that you're making an impact on that child, that they understand that they don't deserve to be treated that way, that there could be someone that stands up for them. But they also have the power to stand up for someone else, because of their past experience," said Price. I think that I'm a perfect example of that; that I was bullied my whole life, I was affected by this, but I'm still able to do this, I'm still able to make a difference, to use my voice, and I'm able to represent those. So I think that to be that voice for these kids, to make them understand that they can be that person, I think that is powerful."