Sense of community makes Machacek earn Senior of the Year accolade
Posted on March 1, 2017 by Taber Times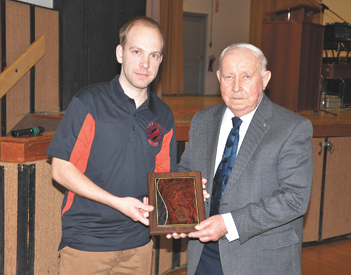 SHINING SENIOR: Kinsmen Club president Twan Jansen congratulates Joe Machacek for his 2017 Senior of the Year Award during the Kinsmen Club Heritage Supper on Monday night at the Taber Community Centre Auditorium. TIMES PHOTO BY GREG PRICE
By Greg Price
Taber Times
gprice@tabertimes.com
Joe Machacek was honoured on Monday at the Kinsmen Club Heritage Supper as the 2017 Senior of the Year.
"We wish to acknowledge our Dad who is a very rich man. Being rich isn't about how much money you have," said Louise Bridgeman, one of Joe's daughters, who alongside sister Monica Machacek spoke on Monday on the honouree for the night. "It is about being happy and content with what you have. It's about raising a good family. It is about contributing to your community. With these things considered, Dad is a rich man."
Those contributions include a strong work ethic Joe inherited from his parents who immigrated from Czechoslovakia, as the family beamed with pride being Canadian citizens, along with four siblings of a sister and three brothers.
"Dad saw how hard his parents worked as new Canadians and this must have made a big impact on him. When O' Canada is played, Dad sings loudly and proudly. When saying grace before family meals, Dad thanks God for the blessings of being a Canadian,"said Monica Machacek.
Joe Machacek went to school in Taber until he was 16 years old, to help his grandpa with the farm. Although he was not able to graduate high school, he stressed the importance of education to his children and grandchildren.
"He wisely reminds them how important an education is in this changing world and encourages them to learn as much as they can," said Monica.
Machacek's interest in education led him to become a trustee of the Taber Roman Catholic School Division when he was in his 20s.
That helped Joe meet his future wife in Lillian Wiedemann, a young teacher at the time at St. Mary's School, where their love blossomed, eventually getting married in 1959.
Living on a farm for 28 years, they had four kids in Tony, Louise, Tom and Monica. The Machacek family grew with 12 more grandchildren and two great-grand children. Joe grew mixed crops and raised commercial cattle.
"Despite the unpredictable nature of farming, Dad remained positive and persevered in his chosen vocation. He saw crop failures and hail storms as opportunities to look forward to the next growing season and to also be mindful of blessings of health and family during difficult times," said Monica. "Dad was a good teacher and insisted Mom and all the kids learn to drive tractor and help out where needed on the farm. Teaching us farming chores such as picking rocks and moving hand move pipe were important skills that farm kids should know. Although these were not glamorous or even fun jobs, Dad passed along a strong work ethic to his children, and for that we are grateful."
Enjoying the friendships he forged with neighbouring farmers, he would stop and visit to discuss the way of life as they passed each other on the gravel road. During one harvest, Joe organized a group who helped a neighbour who was too ill to bring in his crop.
"Dad knew that helping out was the right thing to do and the farming community of Taber just stepped in to help. What a great place to live and what a great thing for your kids to experience," said Bridgeman.
Joe was a delegate for the UFA for 22 years, and being deeply committed to his Catholic faith, has been actively involved in the St. Augustine's Church choir and is a member of the Knights of Columbus. He has also served on the executive board of Parkside Manor, stressing on the importance for seniors to have a place to socialize.
A world traveler, Joe and his wife have traveled to the Czech Republic, Italy, Australia, Ireland, Alaska and Hawaii in their travels together.
"Dad was always interested in the farming practices in these areas and constantly questioned the tour guides about them," said Bridgeman. "As you can see, our Dad is rich. Rich in his relationships, experiences and interests. Taber is an awesome place to live because of the contributions of its citizens, young and old. It's a great place to live."