MP Shields applauds 4-H movement
Posted on March 1, 2017 by Taber Times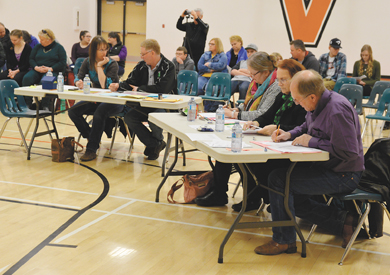 SUCCESS: Judges, including M.D. councillor Merrill Harris (far right), collate results during the Taber and District 4-H Speak-Offs on Saturday at Vauxhall Elementary School. TIMES PHOTO BY TREVOR BUSCH
By Trevor Busch
Taber Times
tbusch@tabertimes.com
4-H has been an organization that has touched the hearts and minds of so many Albertans over the past century, with an impact that goes far beyond the farm and field.
Celebrating 100 years as an organization in the province in 2017, 4-H Alberta was recognized in the House of Commons last week when Bow River MP Martin Shields rose to congratulate the organization on a century of excellent youth programming.
"Mr. Speaker, it is a great honour for me to rise to congratulate 4-H Alberta on its 100th anniversary," said Shields on Feb. 21. "There are many provincial celebrations planned for this excellent organization."
With the establishment of the first Alberta club in Olds in 1917, in recognition of that milestone, 4-H Alberta is returning to that community August 3-7 for their 4-H Fever event.
The organization will also be hosting a regional leaders forum in Edmonton March 16-19.
"For the last 100 years, 4-H clubs have been a valuable asset in our rural communities. 4-H has seen a number of transformations in the last 100 years, and one of the biggest is that they now have a much broader appeal. They are now becoming more relevant in more urban parts of Canada. They teach excellent lifelong skills, such as co-operation, leadership, critical thinking, organization, public speaking, and community service."
Last month, The Taber Times, along with five other sister weeklies in the newspaper chain, launched a special section celebrating the history of 4-H Alberta and its many myriad contributions to the province.
Shields went on to recite the 4-H organization's traditional credo for the assembled membership of the House.
"The 4-H motto resonates today: '….my head to clearer thinking, my heart to greater loyalty, my hands to larger service, and my health to better living, for my club, my community, my country….'."
The former Brooks mayor was confident the organization will enjoy as much success in its next century.
"I am proud of the excellent opportunities 4-H clubs across Canada provide for our youth. I wish 4-H Alberta another 100 years of success."