Young adults looking to save Youth Employment Program
Posted on February 22, 2017 by Taber Times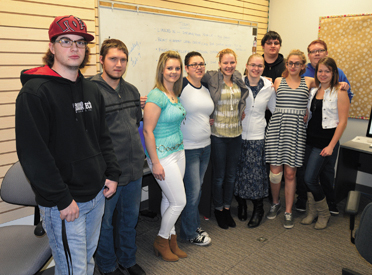 VOICES HEARD: Facilitators and students of the Youth Employment Program (pictured) are banding together to try and reverse the federal government decision to end funding for the program later this year. TIMES PHOTO BY GREG PRICE
By Greg Price
Taber Times
gprice@tabertimes.com
A request to the federal government for three-year funding of the Youth Employment Program in Taber has been denied.
But that does not mean those that the program has helped are not going down without a fight to see if it can be saved with some campaigning to reverse the decision.
Under the umbrella of Taber and District Community Adult Learning Association (TDCALA), the program officially launched in Taber back in October with the purpose of the 17-week program to provide the chance for youth and young adults to overcome barriers to employment, by providing them with skills, experience and abilities to make the smooth transition for people 15-30 years old who are out of school, unemployed or underemployed which the program is targeted for.
"I work with people from all walks of life, and when this program first started, you have so many different people and from so many different backgrounds and personalities. From day one, you wonder whether or not they are going to succeed," said Sharla Kane, who works part time at Youth Employment Services, giving her expertise as a career coach while also being a practicum and career services co-ordinator at Robertson College.
"By week five you see those changes, and come week eight, when they are ready for their work experience, you are floored by the amount of growth they have shown."
People targeted for the program range from single parents, individuals who did not finish high school or who are facing other barriers to employment such as residing in a remote location, physical or ethnic minorities, recent immigrant youth, and ESL literacy. Other barriers may include inadequate skill sets, lack of social supports (family, friends, community), lack of previous work experience, poor self and/or behaviour management abilities, or physical/mental/emotional social challenges.
The Youth Employment Program has had a chance to take in 10 applicants for two separate intakes, with the latest one starting in mid-December which runs until the end of April which will signal the end of the program unless it can be saved.
"They gave no reason, it's just done," said Kristi Austin, a single mother and one of the current students at the Youth Employment Program in Taber.
"In my opinion, we are a group of 10 people who didn't have a purpose in life. We didn't have the support from our family or the community to teach us how to be independent, work and hold families — to just do well. This program has given us direction where many of us have tried many things and failed. But that's OK, this program has helped us find our way and focus our pursuits."
Austin noted the program helps build on one's strengths while mitigating their weaknesses as the young adults get a feel for what they would like and be good at in the workplace.
"They have showed us where we would excel and why we would excel there. They found us placements for work where we start (this) week for the next nine weeks to gain experience in something we enjoy and help us be a working member of society," said Austin.
The program is funded with a partnership of Service Canada and TDCALA and is over 17 weeks long (eight weeks classroom, nine weeks work experience), providing 595 hours of combined classroom and work experience. Instruction involves motivation and mentorship, personal development, self reliance and budget skills, career assessment and personal well-being with an emphasis on nutrition, computers and technology.
It also explores employment readiness, workplace and social media etiquette, post-secondary tours, portfolio development and supervised work experience.
The work area offers a computer lab area, a facilitator room for guest speakers, two smart boards, a creative arts area which Diane Llewelyn-Jones, a fellow facilitator of the youth program, partakes in to inspire students, and a lunch room in which students are taught proper nutrition. The program is five days a week, seven hours a day. Students enrolled in the program get paid minimum wage by Service Canada.
A frustration for both staff and students in the program is the funding was severed without any input or feedback of how the program has helped change lives to show the effectiveness of how the tax dollars have been spent.
"The fact they cut it cold turkey without any review or speaking with staff who have dealt with the people who have dealt with these barriers that this program has helped them overcome, I think it is negligent on their part," said Kane.
The latest intake had 26 people interviewed for it with only 10 spots available, showcasing to both Kane and Austin the need for the program.
"Right there, there are 16 people waiting to get in the next intake that no longer have that hope. And there's more people out there. I personally know of 10 other people that want this program once they heard what they do for us," said Austin. "When we got the news (Thursday) morning we were all devastated. We are lucky ourselves, we got into the program. But, there are a lot of people out there that need this guidance, need this help. We have career coaches teaching us how to succeed and be a good worker."
The 10 young adults currently enrolled in the program, along with its facilitators have drafted a letter they will be submitting to Bow River MP Martin Shields, Taber Mayor Henk DeVlieger and Prime Minister Justin Trudeau in hopes to canvass support politically to gain the ear of federal officials to reverse its decision to stop the funding for the program. The group is encouraging other southern Albertans as well to canvass their politicians on the importance of the program to strengthen the safety net in its social programs, a program that teaches a hand up instead of a handout.
"The more people who can see what this program has done for us, the more people will back us up to have this brought back into our community," said Austin. "We are trying to spread word of mouth. If the right people see the program, they can see how it has made a big difference in a lot of people's lives."