Flexible Solutions destroyed by fire
Posted on February 15, 2017 by Taber Times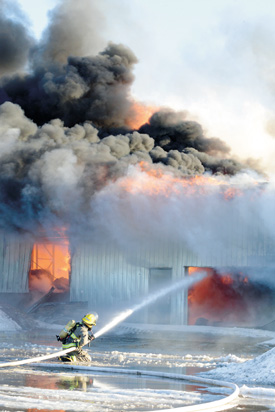 TIMES FILE PHOTO
By Greg Price
Taber Times
gprice@tabertimes.com
Four volunteer firefighting services joined forces to contain a massive fire that broke out at Flexible Solutions in the 5800 block of 52nd Avenue in the industrial area on Saturday afternoon, as the building was destroyed.
"It was a very large fire. We ended up having basically Town of Taber fire department, Vauxhall fire department, Grassy Lake fire department and the new regional M.D. fire department," said Steve Munshaw, fire chief of the Town of Taber fire department in a Monday afternoon interview with The Times. "The call for the fire came in at 2:48 p.m. (on Saturday) for 9-1-1."
Crews were battling the blaze well into the night and early Sunday morning putting out hot spots, as there were concerns at first of possible toxic smoke and chances of explosions given the materials inside the building.
"The fire itself is not as big as I've ever fought, but the HAZMAT product inside the building, it definitely is one of my top fires of mine," said Munshaw. "You are dealing with so many different chemicals at one time and so many different products, and you have food production right beside you."
Flexible Solutions develops and manufactures biodegradable polymers for oil extraction, environmentally-friendly aspartic acid, detergent ingredients and crop nutrient availability chemistry, as well as biodegradable and environmentally safe water and energy conservation technologies. When the plant officially opened in September 2009, it was the only one of its kind in the world.
Fire crews were aided by Mother Nature to a degree because directional mild winds were blowing the smoke away from residential areas, so any need for mass-scale evacuations were put on hold.
"The wind didn't blow hard like you usually see in southern Alberta, which is a good thing. You didn't see the 60-80 kilometre winds until the next day on Sunday," said Munshaw as crews dealt with slightly breezy 10-kilometre-an-hour winds on Saturday. "We were dealing with some hot spots on Sunday and even some today (Monday) because of the magnitude of the fire."
Although not zoned for residential, one person lived in the building, and is now homeless and has received aid from local community aid organizations. Three people were inside of the building at the time of the fire, and escaped relatively unharmed, with one person being treated for minor burns.
During the fire, the Town of Taber activated its Emergency Operations Centre as a precaution, and on Saturday, the areas of 54th Avenue and 57th Street, 52nd Avenue and 57th Street, Highway 36 Service Road and 54th Avenue and Highway 36 Service Road and 52nd Avenue were barricaded off from oncoming traffic.
"At the end of the day, thank you to all the personnel, the community for being so understanding in keeping the area clean and clear for their support in staying away from the scene," said Munshaw.
"Many thanks as well to the M.D. for supporting us with their fire department and big help to both Frito Lay and CPS for helping out with some product removal/disposal and helping out evacuating their building," said Munshaw.
Monday evening saw crews removing anhydrous ammonia from the scene of Saturday's structure fire. The removal was being done in conjunction with Alberta Environment and the HAZMAT team.
"It's just like having a fire that won't go out for multiple days. We are dealing with some chemicals on site, so we; emergency responders, Alberta Health, Alberta Transportation, Alberta Environment, a HAZMAT team — I have Taber's HAZMAT team — Taber's Fire Department, Frito Lay all involved and working together," said Munshaw. "We will be getting all the people out of Frito Lay today (Monday), but they are really the only people affected, because they are down stream and adjacent next door doing food production."
Investigations are ongoing into the source of the fire, but Munshaw noted the fire does not look like it was started by suspicious means with a possible arson.
"The investigation won't take too long because we are comfortable with what is happening with it. It will take a little time to deal with all the HAZMAT products. The clean up and recovery is going to go on for many days," said Munshaw. "I can't speculate at this time for the cause of the fire, we are still in investigation mode, but all I can tell you is it is not suspicious in nature in no way or form."
A call placed to Mayor Henk DeVlieger for comment on the town's role in the fire suppression effort was not returned.