Thomas the Ghost looking for new Barnwell home
Posted on February 9, 2017 by Taber Times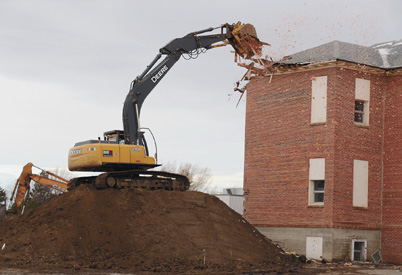 HOUSE WRECKER: With the official demolition of the old wing at Barnwell School last month, ghostly rumours have abound that Thomas is looking for a new place to reside as part of the village's supernatural lore. TIMES PHOTO BY GREG PRICE
By Greg Price
Taber Times
gprice@tabertimes.com
Barnwell's recent cake auction and basketball doubleheader was a celebration of sorts for the new digs that is the modernized Barnwell School.
The cake auction also featured a fundraiser where bricks from the old school wings that were torn down were sold to people wanting a piece of nostalgia of the century-old structure.
But not everyone was necessarily happy about it, as Thomas the Ghost now has to find a new home, according to Barnwell supernatural lore.
"There were some people who have said they saw a ghost and it was a young boy. We did some research on the building and there was a boy that age named Thomas that passed away. The kids heard the rumour and now the ghost's name is Thomas," said Sheldon Hoyt, principal at Barnwell School. "There is the legend that Thomas lived in the school. I have been here every night for months, and I've never seen Thomas, but there are people who swear they have seen Thomas. My custodian said she saw Thomas run by once."
Aaron Edlund, vice principal of Barnwell School and its athletic director helped run last month's cake auction that featured an offering that was a salute to Thomas and his search for a new home. Edlund has his own ghost stories to tell of how his family has had links to the spectre that roamed the halls of the old school.
"The old brick building has always been a bit creepy I guess," said Edlund with a chuckle. "Not during the day, but during the night it can give off a vibe. I've never seen anything myself, but I've never enjoyed heading over there at 11 p.m. at night needing to grab something."
Edlund has spent weekends in the old brick building where his kids have tagged along and played in the building as Edlund has done work in his classroom. Edlund has a 12-year old, a 10-year-old, a seven-year old and a four-year-old.
"When I was at the school, they'd usually play in the old gym and run upstairs to tell me stuff or play in the classroom. So I'm not always putting a close eye on them," said Edlund.
Edlund saw his four-year-old daughter out in the hallway once in the old school, and she was talking out in the hallway down the stairs on the south end. Edlund simply thought she was talking to her siblings, when he turned around and saw the other siblings come from the stairs on the north end of the building.
"I quizzed her and asked her who she was talking to and she said, 'Oh, it's Thomas.' I asked her who Thomas was and she said it was her friend," said Edlund. "She said she played marbles with him and we've never played marbles in our life so that kind of creeped me out. I'm sure any building that is 100 years old like that has some stories. Sooner or later, other people have added their experiences."
Reports have been all over the place of sightings of Thomas, who seems to be quite a nice fellow. Barnwell residents have done some research where there was a young boy named Thomas W. that passed away in the 1930s in Barnwell. Thomas now has quite the following at the school.
"Just this last year, one of the boys in Grade 7 was Thomas for Halloween. It's pretty well known in Barnwell who Thomas is," said Edlund. "I haven't heard of anything yet of Thomas appearing in the new school, although my wife and George Shimbashi both claim that on one of the days they were giving tours midway through the construction process, both of them peeled off from the tour and had a conversation behind us that they both saw something. So maybe it's in the new school now. It's crazy."
Barnwell Trojans basketball players have wondered out loud if they have a sixth player on the court with them, with the odd things that have happened in recent weekends.
Both at the cake auction basketball doubleheader and a tournament the following weekend, opposition players have been carrying the ball up court without any pressure from the Barnwell Trojans whatsoever, only to trip, slip and fall, losing possession in the middle of the floor.
Whispers have been made by Barnwell and opposition players alike that Thomas now resides at centre court of the new gymnasium, giving the Barnwell sports teams a homecourt advantage.