Christian radio station hits the airwaves
Posted on February 9, 2017 by Taber Times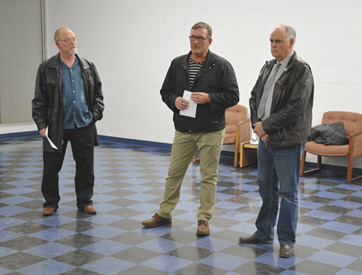 GOSPEL TRUTH: (Left to right) Board members Ken Vanderploeg and Dick Loewen, together with Mayor Henk DeVlieger, speak a few words of encouragement during the grand opening of Taber's new Christian radio station, 89.5 FM "The Beet", on Saturday evening. TIMES PHOTO BY TREVOR BUSCH
By Trevor Busch
Taber Times
tbusch@tabertimes.com
Local airwaves are now being saturated with the signal of Taber's new Christian radio station, 89.5 FM "The Beet," which hosted a grand opening at their 48th Avenue location on Saturday evening.
Organized by TEAM Radio Broadcast Taber Association, the evening featured speeches by board members Dick Loewen, Jon Loewen, Ken Vanderploeg, and Margarita Sawatzky, followed by some words of encouragement from Mayor Henk DeVlieger, who performed the ribbon cutting ceremonies.
"We must be active participants in sharing the gospel in such a way that the people can hear the truth, see the way, and find the light into a personal relationship with Jesus Christ," said board member Dick Loewen. "That is primarily what we are about."
Earnest prayers were offered by local pastors before the modest crowd that gathered for the event, including blessings for the nation, freedom of speech, the community, and for the success of the venture.
Currently operating 24 hours a day, according to Vanderploeg the station actually went live on Dec. 13, 2016, after receiving approval for broadcasting from the Canadian Radio-television and Telecommunications Commission (CRTC). 89.5 FM "The Beet" is now the CIAM radio network's 23rd broadcast location in Canada.
According to CIAM's mission statement, it intends to "bring the good news of Jesus Christ to communities across Canada by partnering with Christians to establish non-commercial, community FM radio broadcasts."
Started in 1999, CIAM operates as a non-profit charitable mission organization based out of Fort Vermilion, Alta., with a support centre in Edmonton. In 2003, CIAM Radio was approved by the CRTC as the first broadcast of its kind in the province.
The radio station's current location, 5331 48th Avenue, served as the previous broadcasting location for a now-defunct Taber radio station (CKTA 1570 AM), and 89.5 FM "The Beet" is now making use of that existing radio tower which had been inoperative since 1987. The station experienced some interference on an initial frequency, but were able to quickly change to the current 89.5 FM, and gain speedy approval from the CRTC.
The station is now engaged in building its monthly community sponsorship base, as well as seeking volunteers to begin filling various mission positions. It is being operated in a non-commercial community format.
Opportunities for local content will include local programming and broadcasting, liners, promo liners, local weather reports, community messages, production of local community spotlights, celebrations, Youth Alive, Rise and Shine, Church Alive, local music and other local programming options.
Some of the programming currently offered includes Listen to the Bible with Max McLean, Family Life Today, Money Wise, Hope for the Heart, In Touch Ministries, Focus on the Family, Call of the Land, Revive Our Hearts, Lamplighter Theatre, Kids Corner, Karen and Kids, Jonathan Park, Paws and Tails, CIAM Messenger, Insight for Living Canada, Adventures in Odyssey, Keys for Kids, The Living Word, Word of Hope Ministries, Sunday Side Up All Country, Living Truth, Turning Point with Dr. David Jeremiah, Unshackled, The Storyteller, Derch Dee Bibel, Our Daily Bread with Max McLean, Mission Network News, Just Thinking and Tribal Trails.