Chamber of commerce honours award winners
Posted on January 25, 2017 by Taber Times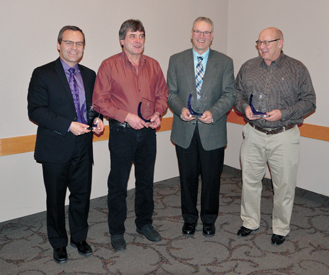 GUESTS OF HONOUR: Bruce Warkentin, Darcy Marsden, Kevin Leahy and Kevin Fedoruk are all smiles after receiving their respective awards for both business and individual accolades on Friday night at The Heritage Inn. TIMES PHOTO BY GREG PRICE
By Greg Price
Taber Times
gprice@tabertimes.com
The Taber and District Chamber of Commerce Annual Dinner and Awards Banquet was held on Friday night at the Heritage Inn where the business community was celebrated and the people that make it happen.
Small Business of the Year, Outstanding Citizen of the Year, Spirit of Taber and Customer Service in Taber were recognized for their contributions in 2016 with Chinook Heating and Air Conditioning taking the podium first to accept its award for customer service.
A quarter century of service in the Taber area, accolades have been plentiful from the people they serve.
"I'd like to acknowledge the chamber and thank them for highlighting and promoting local business. I'd also like to thank local customers who support local business. That is the biggest stepping stone for all of us here," said Kevin Fedoruk, owner/operator of Chinook Heating and Air Conditioning, who like the other award recipients congratulated their fellow nominees for helping make Taber a better place to live. "This nomination is quite the feather in our cap and makes us very proud and is a reflection of everyone in the business. This is not just myself."
Chamber president Matt Williams, who was the MC for the night, moved on to Spirit of Taber winner MNP LLP Taber. The staff at MNP have been active members of the community for numerous years, with their work standing out like working the kid's craft table at Midnight Madness, setting up and taking down promotions of the event, and the organization started the Taxi Cob service to ensure people a safe ride home after celebrating Cornfest. The organization also pushed for the creation of the Taber Spray Park, giving space in their office for the committee. The organization has also helmed many social media initiatives which has included upping the chamber's social media presence.
"I'm accepting this award on behalf of the whole group at MNP. All these individuals are always willing to help out in whatever project we are working on," said Bruce Warkentin, partner at MNP LLP, adding some humour to the evening on the group's push towards social media. "Most importantly I'd like to thank my followers on Facebook, Twitter, Instagram, LinkedIn and YouTube for not blocking me…at least not yet."
Warkentin noted a travel poll by Expedia that highlighted Taber as one of the Top 25 friendliest communities in Canada. Taber finished sixth overall, and the only Alberta community that finished in the Top 10.
"With this award, we are humbled by it and we are just a small part of what makes Taber such a great place to live, work and raise a family. We look forward to working with each one you and building this community to be maybe the fifth or fourth friendliest in the future," said Warkentin.
The night featured some minor battery problems for the microphone in which Kevin Leahy, Taber's Citizen of the Year for 2016 joked that he could still use his 'coach' voice for people to hear.
Coaching was just one of many pursuits Leahy has done in his life, fueled by his Catholic faith for the betterment of the community. The Taber Food Bank, Knights of Columbus, Taber Cares, Taber Curling Club, St. Mary's School Athletics — just a few of Leahy's many pursuits that have left their mark on Taber, along with his church faith.
"Many of you here tonight have done many things to enhance the quality of life in Taber and area and made it a great place to live in. It has been said many times and by many people that it takes a whole village to raise a child," said Leahy. "This award is actually about a lot of people and a whole lot of organizations. A whole village that I have been a part of."
Leahy highlighted the large circle of organizations and citizenry that tie the town together which would not be able to function at its highest potential without the giving spirit of its residents.
"Part of living is giving. The circle would never complete itself without the giving," said Leahy. "Being raised in a family where giving was the norm has made it easy to follow in these footsteps. In my youth, when I was part of the sporting community, I was surrounded by coaches and parents that were part of that giant circle and it made being a team member easy, and fun. I later became involved with the Knights of Columbus, Taber Curling Club and the Taber Food Bank and I again found myself surrounded by great people that helped form this giant circle. It makes it easy and fun, and most of all fulfilling."
As Leahy looked back at the list of former Citizen of the Year winners, he was humbled to be considered part of such distinguished company.
"I am honoured to be the recipient of Citizen of the Year."
The other book end of the night was also featuring business excellence with the 2016 Small Business of the Year in Taber Temp Plumbing, Heating and Gas Fitting Ltd.
Another business that has been around for a near quarter century, the company has grown despite tough economic times in recent years, as it has enjoyed its larger new digs downtown, while also having staff and the business itself help out with many different community initiatives. Storing things for the Kinsmen Club and the chamber of commerce, helping Taber Players in a bind when the heat went out prior to a performance, top-notch safety programs and spreading Christmas financial cheer for its employees were a few of many things the company does.
"I thank the chamber for this prestigious award. It makes a person feel quite proud. I'd like to thank my crew. We couldn't be a successful business in this town if we didn't have great employees," said Darcy Marsden, owner of Taber Temp, talking glowingly of his staff that has over 70 years combined experience. "I'd like to thank the people of Taber for supporting us for the last 24 years and I hope that 2017 is a prosperous year for you all."