Starke makes PC leadership pitch to rural Albertans
Posted on January 18, 2017 by Taber Times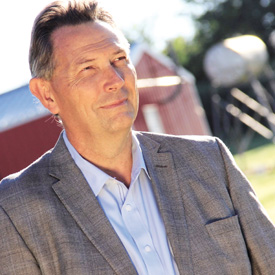 MAN WITH A PLAN: Richard Starke is seeking the leadership of the provincial PC party. TIMES PHOTO SUBMITTED
By Greg Price
Taber Times
gprice@tabertimes.com
One of the four provincial Progressive Conservative leadership candidates made their way to Taber last week as part of an awareness campaign in southern Alberta for his candidacy.
After 44 years of PC rule, the NDP took a majority victory in 2015 in which now the PCs are looking for a leader that will bring them back to prominence.
Richard Starke has been a card-carrying member of the Progressive Conservative party since 1976 and is currently in his second term as MLA for Vermillion/Lloydminster and is caucus critic for health, parks and recreation, agriculture and forestry and culture and tourism. In his first term as MLA, he was minister of tourism, parks and recreation in 2013.
"It is a critical juncture. It is the first time in over four decades we haven't been in government. That is a verdict that I accept, people had reached a point where they felt they needed to send the party a message and teach them a lesson," said Starke, adding he was hearing at the ground level among voters, phrases such as 'time for a change,' 'taken for granted' and 'just not listening' were being bantered about in the electorate.
But, while Starke accepts the decision for change in party government, what he hasn't accepted about the NDP is its change on how it has handled adversity in a slumping economy.
"The province has been really struggling with an economic downturn here in relation to local commodity prices. No one blames the NDP for that. But, they went down a number of times when we were in government," said Starke. "But, the difference is, whenever oil prices went down, or we had BSE or we had softwood lumber or any other industry was suffering because of low commodity prices, our government would always do what was humanly possible to support the industry. This NDP government is not doing that, in fact, it's making it harder to operate in business with a whole list of different aspects."
Listening to his constituents and PC party members, the consistent mantra has been 'rejuvenate, refocus and revitalize' the party, according to Starke.
"We are all running on a platform to revitalize. Where I separate from the other candidates is I have experience in both business in the community and experience in government. I am not a career politician," said Starke of his fellow candidates in Jason Kenney, Byron Nelson and Stephen Khan. "I had two terms on city council and since 2012 I've been an MLA, but most of my adult life I've been in private business. I know how to set a budget and only spend money you have and borrow money only when it's necessary. That's principles we need in government."
Starke stressed he brings traits that Albertans are looking for in a compassionate and effective listener, perhaps traits voters felt the party was lacking as they took to the polls in the historic 2015 election.
"It is also about acting in a way that shows you have integrity and you do things in a principled manner. I've been stressing that throughout the campaign," said Starke. "Albertans want to know their politicians are honest and that they can be relied upon in what they say is what they are going to do. I am also the only candidate from rural Alberta, yet I was born in the City of Edmonton. I can relate to people in Calgary, people in Edmonton and all around the province and I feel just as at home in a boardroom in Calgary as I do in the middle of the night in a barn in Vermilion."
Often a complaint among voters in southern Alberta is the rural voice being disenfranchised compared to their urban counterparts.
"Rural Albertans need to know their leader has their back. Another thing that sets me apart from the other candidates is I'm in the legislature now. I have a seat, and if I'm elected as leader, the next day I can stand up in the legislature and start asking Rachel Notley the kinds of questions that need to be asked on behalf of Albertans," said Starke.
"And not just asking questions, but proposing alternatives and showing people there are other ways of doing things. You can be a leader in climate change without severely damaging our economy. No other of the three (candidates) have been there everyday since the last election, seeing what the NDP government has been doing."
The Vermillion/Lloydminster MLA stressed that Alberta has always prospered most when there was not a divide between rural an urban Alberta.
"Rural Alberta has traditionally been where most of the wealth in the province has been generated. It is where the oil and gas is, it's where the agriculture happens and forestry," said Starke. "A lot of the wealth we generate in this province comes about in rural areas, extracting various resources. It's the people in rural areas who do a large portion of that. A lot of the things that we can do to ad value to those raw resources are not necessarily in urban centres, but are near urban centres like the industrial heartland northeast of Edmonton. I guess frustrated sometimes where it appears we are pitting city dwellers versus rural dwellers. Alberta works best when they work together."
Starke was born and raised in Edmonton and took two years at the U of A for agricultural forestry before attending the College of Veterinary Medicine in Saskatoon, which he graduated from in 1983. Moving to Lloydminster, for nearly three decades, Starke and his wife operated an animal hospital, which grew from three vets and two staff to eight vets and 25 staff. Starke has always remained active in his community, serving two terms on city council and being a member of the Rotary Club, along with serving on the health foundation, along with grabbing a whistle coaching youth soccer and speed skating.
Starke made his way to Medicine Hat late last week, before heading to Calgary and a candidate's debate in Edmonton this past Sunday. The debate can be viewed on the PC Alberta Web site.
The Progressive Conservative Association of Alberta will vote to for a permanent leader on March 18.
"As of March 19, we should as a party be concentrating on doing everything we can to build our party to be a credible alternative to the NDP," said Starke. "We had a 1,000 people show up at our convention in Red Deer, that was more than the other two parties combined. People have told me they want to get involved again and they know there is work that needs to be done. I'm getting a sense Albertans are already starting to shop around for their next government because the current government they want to retract and return them as opposition."