Plumbing and heating business recognized by chamber of commerce
Posted on January 18, 2017 by Taber Times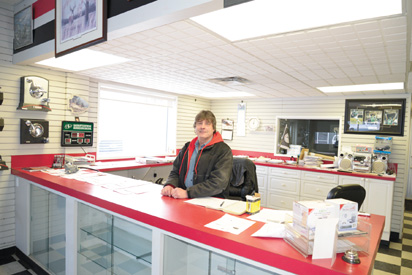 TABER PROUD: Darcy Marsden and his Taber Temp Plumbing Heating and Gas Fitting has been servicing Taber and area since 1993. TIMES PHOTO BY GREG PRICE
By Greg Price
Taber Times
gprice@tabertimes.com
Just now finally emerging from a month-long cold snap that has gripped southern Alberta, business has been booming for Taber Temp Plumbing Heating and Gas Fitting.
Fitting, in that it has also been selected as 2016 Taber and District Chamber of Commerce Small Business of the Year, which will be celebrated this Friday.
"The cold snap hit Dec. 5 and since then, I bet we had 250 heating calls in the last five weeks," said Darcy Marsden, owner of Taber Temp Plumbing Heating and Gas Fitting, in an interview with The Times early last week. "Every year, our business has been as good, if not better, although the year end hasn't come in yet for 2016 and 2016 has been tough for everyone."
With a business that deals in both needs and wants (home/office renovations), Taber Temp has been able to handle the ebbs and flows of the economy better than other types of businesses.
"If you don't got any heat, you have to have heat. If you got no sewer, or if it's plugged up, or got no hot water, those are needs," said Marsden. "For renovations, it was slower because people aren't going to spend money on that when money is tight."
Part of what helped Taber Temp Plumbing, Heating and Gas Fitting earn Small Business of the Year, according to the nominator, is they will also service products bought elsewhere with a smile on their face and no hard feelings, something that Marsden found lacking in business just 50 kilometres west on the highway.
"Last year I did about the same amount of houses. We got guys coming in from Lethbridge doing all these houses and then we go in and fix it from the warranty work because the other companies don't come back. You know how much we run into that," noted Marsden. "We've had people say, 'We've been phoning them for a month and they won't come in to fix it'."
Helping get their customers' heat back in the dead of winter since 1993, Marsden admitted to having a warm, fuzzy feeling himself that the business got the accolade that will be celebrated this Friday at the Heritage Inn with an annual awards and dinner banquet.
"I heard we were nominated back in November and I thought 'wow.' It's a good feeling that we must of been doing something right to even be nominated," said Marsden.
Taber Temp Plumbing, Heating and Gas Fitting, located at 5404 48th Avenue in downtown Taber has helped store Kinsmen Club barrels and its car trailer along with its parade trailer. The company supports many local fundraisers, prefers to hire local people, has a top-notch safety program and gives out year-end Christmas bonuses to spread the holiday cheer to its employees according to the nominator. Darcy's wife Susy who helps run the business as well, has been involved in many sports organizations in town (soccer, basketball, football) and regularly volunteers for Cornfest and the town's community halloween party.
One time, the company helped out Taber Players who was in a bind during one of its productions in the old library building. Darcy arranged to have a repair man after hours tend to the broken furnace, so that patrons and cast and crew alike could have heat, being it was -25 Celsius at the time. The nominator noted, 'They never did see a bill.'
"They had a show going on, people were filling into the building and they had no heat. It was at night and we got the furnace going for them," said Marsden. "We do a lot of after-hours calls. It's not like you can go without heat no matter what time of the day or night it is. No one is going to freeze. I have temporary electric heaters to borrow out if people need them. Sometimes it's something small like a little switch or ignitors, sometimes it's something big."
Marsden has been quite pleased with the expansion the business saw when it moved its offices from the northeast industrial area to its current downtown location as his son Trevor has been part of the business as well, becoming a third-year apprentice in February. Darcy has glowingly given his son a review as 'one of the best heat guys in southern Alberta.'
"It's nice being downtown, you see more people. People just stop by and say hi. We got our big windows people can see in and we have a big show room," said Marsden, as he applauded all of his staff in which technicians are all fully trained journeymen with over 70 years of combined experience. "We can park all the trucks inside so it keeps them warm."
Marsden noted he was at a crossroads on what decision to make for business when his son Trevor was a baby, as he and his wife had choices between Red Deer and Taber, in which he has been quite pleased putting down roots in Taber both family and business wise.
"We've been here for nearly 25 years and we hope to be here for 25 more," said Marsden.
The Taber and District Chamber of Commerce Annual Dinner and Awards Banquet in which Taber Temp will be recognized, goes this Friday, starting at 7 p.m. at the Heritage Inn.
Tickets for the annual Taber and District Chamber of Commerce Dinner and Awards can be made by RSVPing the chamber at 403-223-2265. Tickets are $55 apiece.
Also honoured on the night will be Customer Service, Spirit of Taber and Citizen of the Year.