Christmas gift turns into New Year's blessing for couple
Posted on January 11, 2017 by Taber Times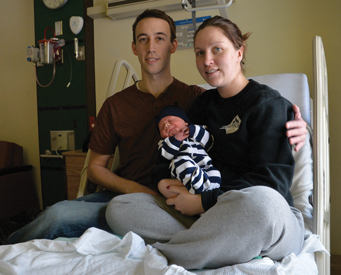 A LATE GIFT: The Taber New Year baby for 2017, Max Wallace Malmberg — pictured here with parents Scott and Kaylee — had an original Christmas-delivery date, only to arrive late to claim the title. TIMES PHOTO BY NIKKI JAMIESON
By Nikki Jamieson
Taber Times
njamieson@tabertimes.com
The 2017 Taber New Year's baby arrived a little late; he was supposed to be here for Christmas.
Although he arrived in plenty of time to be the New Year's baby, Max Wallace Malmberg, as his parents Kaylee and Scott Malmberg from Barnwell are tentatively calling him, was due to arrive on Dec. 27. Instead, he was born on Jan. 2 at 2:09 p.m., weighing eight pounds and 13 ounces and is 22 inches in length.
"He was six days overdue," said Kaylee. "I thought we were going to have a Christmas Baby. I thought for sure he was going to be born on Christmas Eve."
"We didn't think we'd make it to the New Year," said Scott.
The delay meant that Max would be the New Year's baby for Taber, instead of a Christmas baby. The weather over the Christmas weekend meant there was a possibility that Max would have been born at home, although with Scott becoming a family doctor in six months, it wouldn't be all that bad of a situation, although it would be less then ideal for the couple.
"I was mostly worried about the mess we'd make at home," said Scott.
"Yeah, I didn't want to clean that up," said Kaylee with a laugh.
During the interview, his parents weren't 100 per cent sure on what to call Max, joking that they'll read the name in the paper and change it, but they would stick with Max for now.
"Just say one and change it," said Scott. "It'll be great. We'd read it in the paper."
"And decide if we like it or not," said Kaylee. "We've been discussing this for nine months."
Max will be the youngest of the couple's four children; Eli (three-year old brother), Tatum (four-year old sister) and Lennon (18-month old sister). Eli is the most excited of the three, according to Kaylee, since he finally has a brother.
"We're expecting him to be our last, so it's kind of nice to go out with a bang," said Scott. "A New Year's bang."