Chinook Heating recognized for customer service
Posted on January 11, 2017 by Taber Times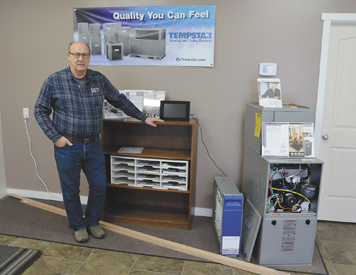 AIR FLOW: Owner/operator of Chinook Heating and Air Conditioning, Kevin Fedoruk, has been providing customers with top-notch service in the community for 25 years in 2017. TIMES PHOTO BY TREVOR BUSCH
By Trevor Busch
Taber Times
tbusch@tabertimes.com
Hard work and dedication to service excellence have paid off for Chinook Heating and Air Conditioning, which has been selected as this year's recipient of the Taber and District Chamber of Commerce Customer Service Excellence Award.
"I was a little surprised, and very pleased that someone local considered nominating our business," said owner/operator Kevin Fedoruk. "It's a good point of public relations for us, I would imagine. I just found out a couple of days before, I saw the thing in the newspaper."
Honouring businesses that provide exceptional customer service on a consistent basis, the Customer Service Excellence Award will be presented to Chinook Heating and Air Conditioning at the chamber of commerce's Annual Dinner and Awards Banquet hosted at the Heritage Inn on Jan. 20 at 7 p.m.
Fedoruk's business will actually be celebrating a milestone this year with 25 years in operation.
"I'm the originator. I started working as the sole proprietor in 1992. The basis of the business is heating and air conditioning, sheet metal work, just about anything to do with heating or cooling."
A strong focus on customer service is integral to business success when operating a service-based company in a small community, notes Fedoruk.
"In a small town, it's extremely important, because of word-of-mouth and repeat customers. I think a big part of it is our personnel, and the way that they treat or talk to customers. I get a lot of reports back from customers about some of our guys, telling me that they're very pleased with the way that they dealt with them, and the way that they solved their problems or dealt with their issues."
While always ready to address new advancements within the industry, Fedoruk pointed out his company is picking up work where it can while it weathers some of the effects of an economic downturn.
"We work in a fairly diversified manner. We cover a lot of areas, and we need to do that in a small town. Right now, it's a tough question to answer with the economy the way it is. We are turning a little bit more to where there is more work, like service and retrofit, but that might not necessarily be a long term thing — because right now the construction market is pretty competitive, and it's slower."
Having a diversified economy in Taber that is not solely dependent on a depressed oil and gas sector gives many businesses the ability to more effectively compete in tighter markets, according to Fedoruk.
"I've been here since 1980, and I have found that compared to other marketplaces, it has been a steadier, more dependable market place. The highs and lows seem to not reach us quite as badly here. Right now, that's kind of not true with the oil market. We had a similar thing about eight years ago. But how it affected my business for all these years, we really have only had a couple times in 36 years that we've actually sat around and twiddled our thumbs. Whereas I know other markets, and other market areas, when you have downturns in the economy, or the oilfield changes, they're hit a lot harder than we are here. I think that's because we have such a strong agricultural area here. It's a little bit more diversified than some places."